Titleist 714 CB and MB irons launched
The new Titleist 714 CB and MB irons are designed to offer Tour-proven flight and feel with improved address profiles and ground interaction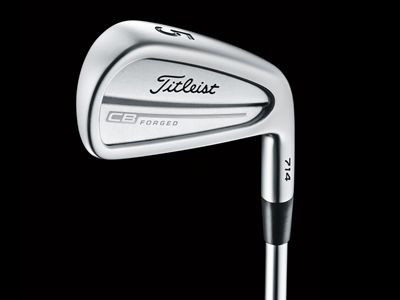 The new Titleist 714 CB and MB irons are both tour-proven forged blade irons, designed to provide maximum shot control with improved address profiles and enhanced feel through the turf.
Both sets of irons maintain the core design fundamentals aimed at highly skilled, traditional bladed iron players since their initial launch in 2009.
This includes delivering advanced shot and trajectory control with classic solid feel and contemporary looks.
The Titleist Golf Clubs R&D team say they have made improvements to the sole, leading edge and hosel of the new models for smoother ground interaction and improved looks at address.
"When we ask tour players what we can do to improve the CB or MB irons, their immediate reaction is always the same: Don't do anything.
It's a welcomed challenge for our R&D team," said Steve Pelisek, General Manager, Titleist Golf Clubs.
"Through advanced computer modelling and extensive player testing we've been able to really fine tune these new designs and provide more performance.
The new CB and MB models allow players to work the ball high and low and left and right with a solid blade feel, and now they look better at address and perform even better through the turf."
Forged from 1025 carbon steel, the new Titleist CB and MB irons feature constant blade lengths with minimal progressive offset for maximum workability.
Compact shapes with precise CG locations and traditional tour lofts are designed to deliver the flight, feel and shot-making confidence that the world's best players look for.
The new CB irons feature an optimised shallow cavity-back design with an inner cavity muscle behind the impact area for a solid blade like feel.
MB is a classic muscle back forged iron, delivering great feel from muscle back weighting positioned behind the sweet spot.
The sole design of both CB and MB features a pre-worn leading edge to offer crisp ground contact and less digging when the club enters the turf.
Both models have a slightly straighter leading edge that promotes a square setup and a new hosel-to-leading edge blend that creates less visual offset at address.
Both sets also feature a Tour-preferred satin finish that reduces glare and accentuates the toe and topline profile for easier alignment of the face.
The new Titleist CB and MB irons will be available from November 8th and both models have a RRP of £114 per club (steel)
Titleist 714 AP1 and AP2 irons See images of the new Titleist 714 range
Paul joined Golf Monthly in 2006 in a junior role and has since worked as senior staff writer and now as technical editor. He writes equipment and instruction content and tests the vast majority of golf clubs that are introduced every year.