Portugal - Algarve
It's been 13 times lucky for our editor when revisiting the Algarve, so what will the outcome be as he explores Oceânico's latest offerings?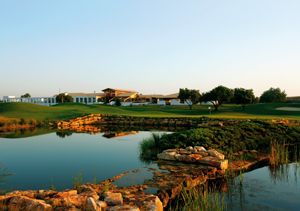 Golf Monthly Newsletter
Golf tips and expert instruction, golf club reviews and the latest golf equipment.
Thank you for signing up to . You will receive a verification email shortly.
There was a problem. Please refresh the page and try again.
Whatever you do, don t put your golf balls in the hold. It can play havoc with their compression. I can still clearly remember being offered these words of advice by our club champion as I was standing in the check-in queue at Heathrow waiting for an early-morning flight to Faro.
As a young (ish), impressionable golfer on my first overseas golf holiday I wasn t about to ignore the advice of someone who was savvy enough to have his name on the honours board. So I duly unpacked my two dozen Top-Flite Z-Balata s from my flight cover and stuffed them into my carry-on luggage. I never did discover whether my balls would have gone less far had they stayed in the hold, but a week later I returned home with none of the aforementioned Top Flites, but well and truly sold on the combination of great golf courses in warm sunshine in January and a post-round pint (or two) of Sagres.
Since that first trip almost a decade ago I ve been back to the Algarve with my clubs 13 more times from Monte Rei close to the Spanish border right down to Parque da Floresta at the quieter western end and each time it s never let me down.
My latest trip this summer was to play the only Vilamoura course I had yet to tee it up at, Victoria, and to get an exclusive preview of what will become the Algarve s newest must-play courses at Amendoeira of which more later.
All five of the Vilamoura courses; Victoria, Millennium, Laguna, Pin-hal, and the celebrated Old Course, are owned by the Oceânico Group. If you hadn t been aware of this company before this year s Open, you probably will have been come Sunday evening at Birkdale when their distinctive logo gained a lot of television exposure on the side of Padraig Harrington s cap as he played his way to a second Claret Jug.
Harrington is one of six of the European Tour s biggest names along with Lee Westwood, Darren Clarke, Paul McGinley, Retief Goosen and GM s playing editor David Howell who are Oceânico property owners. The company s extensive portfolio stretches from the Vilamoura Golf and Garden Resort in the east down to the Estrella Da Luz and Vila Baia resorts at the western end of the Algarve. It s perhaps no surprise that these golfers have chosen to make a base here, given that many of them have seen at first hand what Vilamoura has to offer when they played the Victoria course in the 2005 World Cup, and again in last year s Portugal Masters.
Hosting the World Cup just a year after it opened really put the Arnold Palmer-designed track on the map. And its legacy is still there to see when you go into the fabulous clubhouse locker rooms, where you ll notice the individual name plates and country flags of the players who teed it up in the event.
Hoping to get a bit of inspiration for my match against Victoria s head pro, José Dias, I put my shoe bag in the locker of fellow countryman Bradley Dredge who along with Stephen Dodd lifted the World Cup for Wales and headed out to the first tee.
Victoria s style is undeniably American, with impeccably maintained wide fairways encouraging you to get the driver out and give it a rip. But with big bunkers and plenty of water (it
comes into play on no fewer than six holes), wild shots will be punished. The greens are large and undulating, meaning there s plenty of scope for spotting some testing flag positions when the tour pros come to town.
Like the adjacent Laguna and Millennium courses, Victoria is more exposed to the coastal winds than the tight, pine tree-lined layouts of Pinhal and the Old Course. You certainly need to factor this in especially on your approach shots. I foolishly thought the fact that I played my university golf at Hoylake and am now a member at Westward Ho! might help in my match against José. That was until I saw him stripe a 5-iron under the wind to three feet at the first, and he told me that as a young man he spent four years in Scotland working in a Fife hotel by night and by day, he honed his raw game on the links of the East Neuk!
The contrast in styles, not to mention degrees of difficulty between the five courses I d rate the Old Course as the most difficult and Laguna as the most forgiving is one of most appealing things about a golf holiday here. The five courses are also all within easy reach of each other and regular shuttle buses run between the courses and most of the major hotels in town.
Another big bonus is the great deals on offer, with five rounds of golf available for as little as 250 in low season and just under 400 in high season. And, with plentiful flights from the UK to Faro, you can get an early departure and be teeing it up in Vilamoura that same afternoon.
As of this autumn, Oceânico s famous five will become the magnificent seven when the Amendoeira development opens its doors. Situated just off the main N22 highway to the east of Silves and with the spectacular Monchique mountains as its backdrop, the 640-acre plot will be home to two 18-hole courses, one of the best practice facilities in Iberia, a stunning clubhouse and a luxurious resort that will offer everything from two-bedroom apartments to five-bedroom villas.
Amendoeira is a golf resort on a truly grand scale, something found at first hand when I took a tour of the site that involved transportation in both a golf buggy and 4x4 jeep. My guide for the visit was Steve Richardson, Oceânico s director of Golf Course Maintenance, whom I had met two days earlier while I was taking a bath at Victoria s par-5 12th hole and he was surveying a bridge that crossed the water hazard!
As Steve himself admits, his job title is a rather grand one for someone who started out as a traditional greenkeeper back in the UK. But when it comes to looking after courses, he s certainly been there, seen it and done it. This year is his 31st in the business and he has been around the globe looking after high-profile courses such as the renowned Sandy Lane resort in Barbados.
Given the identity of the designers, it s somewhat appropriate that the two courses will open either side of the 37th Ryder Cup Matches. In September, the course designed by European skipper Nick Faldo will open, and a month later Christy O Connor (he of the imperious 2-iron at the Belfry) will be in play.
Despite holes from each course running close to each other, the two tracks have very different characters. The Faldo course is a desert-style with sharply defined fairways that run into thick rough and beyond that, zones of crushed rock and natural waste areas are dotted with wild flowers and plants. Risk and reward is the theme, with the importance being placed on position off the tee.
By contrast, Christy s course will be a layout that evokes images of a classic Florida course, with lush Bermuda grass fairways, lakes, streams and palm trees. Steve Richardson says Christy s personality and love of putting really comes across on the greens with some subtle contouring that will have many golfers scratching their heads as they line up their putts.
As with the five courses at Vilamoura, the two Amendoeira tracks will be operated by Troon Golf, which means the bar will be set high in terms of course condition and visitor experience.
By the time you read this, I will have been back for trip number 15 and the opening of the Faldo course. Having seen the layout enter the final phase of completion in June, I m excited
to experience it at first hand, and to see if it plays as tough as it looked like it would. Whatever my score, I m already looking forward to tasting that post-round Sagres in the magnificent Amendoiera clubhouse!
CONTACTS BOOK Getting There
A number of airlines, including BA, Easyjet and Monarch fly direct to Faro from airports across the UK and Ireland.
www.britishairways.com, www.easyjet.com, www.monarch.co.uk, www.ryanair.com
Play
Oceanico Old Course
W: www.oceanicogolf.com/courses/algarve/old_course
stats: 6,841 yards, par 73
OceanicoVictoria
W: www.oceanicogolf.com/courses/algarve/victoria
stats:6,845 yards, par 72
Oceanico Millennium
W: www.oceanicogolf.com/courses/algarve/millennium
stats: 6,733 yards, par 72
Oceanico Pinhal
W: www.oceanicogolf.com/courses/algarve/pinhal
stats: 6,948 yards, par 72
Oceanico Laguna
W: www.oceanicogolf.com/courses/algarve/laguna
stats: 6,683 yards, par 72
Oceanico Faldo
W: www.oceanicogolf.com/courses/algarve/faldo_course
stats: 7,222 yards, par 72
Oceanico O Connor
W: www.oceanicogolf.com/courses/algarve/oconnor_course
stats: 7,348 yards, par 72
Stay
W: www.oceanicoresorts.com
Property
W: www.oceanicodevelopments.com
Mike has been a journalist all his working life, starting out as a football writer with Goal magazine in the 1990s before moving into men's and women's lifestyle magazines including Men's Health, In 2003 he joined Golf Monthly and in 2006 he became only the eighth editor in Golf Monthly's 100-plus year history. His two main passions in golf are courses, having played over 400 courses worldwide, and shoes; he owns over 40 pairs.
Mike's handicap index hovers at around 10 and he is a member of four clubs: Hartley Wintney, Royal Liverpool, Royal North Devon and the Royal & Ancient Golf Club of St Andrews.