Wire-To-Wire Masters Winners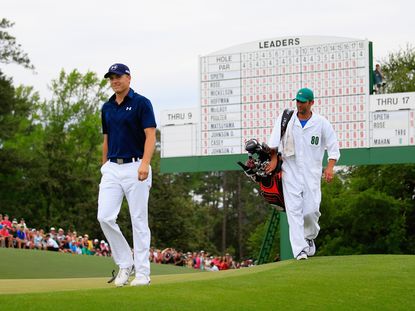 With Jordan Speith's Masters victory, we've been hearing a lot about the wire-to-wire winners at the Masters.. But what kind of company is he in?
Wire-To-Wire Masters Winners
Leading after 1.
Leading after 2.
Leading after 3.
Winning after 4.
Jordan Spieth became one of just five players ever to win the Masters after leading at the end of each round in the history of the Masters.
Who else breaths air in this rare club?
Craig Wood 1941
Craig Wood started the trend, the original Masters wire-to-wire winners. He took home a total winnings of $1,500, defeating Byron Nelson by three strokes.
Wood would also go onto win the next major, at the 1941 US Open.
Prior to winning the Masters, Wood was best known for losing. He lost all four majors by playoff before winning at Augusta.
Arnold Palmer 1960
A slightly more easily recognisable name. It was the second Masters and second Major title for Palmer but it didn't come easy.
Arnie had to birdie the final two holes to win by one stroke over eventual runner-up Ken Venturi.
Jack Nicklaus 1972
A first round 68 put Jack in the lead on Thursday, and he never gave it up. On the way to the fourth of his Masters titles, Jack finished three strokes ahead of the field.
It was a win with a touch of sadness. The 1972 Masters was the first to be played without the founder, Bobby Jones, who died in December 1971.
Raymond Floyd 1976
Just 4 years later, history would strike again, when Raymond Floyd raced out to an early lead and never relinquished it. He went -13 for the first two rounds on the way to an eight stroke lead, ahead of Ben Crenshaw,
It would end up being one of Floyd's four major titles.
Jordan Spieth 2015
Spieth's run may have been the most impressive of the group, setting Masters records with nearly every stroke. His totals after rounds 2,3,4 are all records or tied for records at Augusta.
He is also only 21 years old, which makes you wonder... Can he do it again?
A US native, Taylor enjoys hacking from the rough and scrambling to save bogey on a par 3. Follow Taylor on Twitter @taylorumland