Bernhard Langer In Contention At The Masters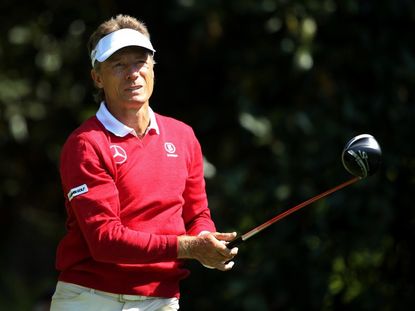 (Image credit: Getty Images)
Bernhard Langer, aged 58, is in contention again at the 2016 Masters, where he has played more rounds than any other European golfer
Bernhard Langer has done it again.
Not only has he already played more Masters rounds than any other European player – and adding to his record today and tomorrow at Augusta National - but the 58-year-old Langer is in contention again, five shots off Jordan Spieth's halfway lead in the 2016 Masters.
In his 33rd appearance at Augusta, Langer will be playing Masters rounds 113 and 114 this weekend.
When the conditions at Augusta get tough, that's when Langer really gets going, and amid the swirling gusts of the second round yesterday he shot 73, one over par, to add to his level-par first round.
"At the start of this week I hoped to get myself into contention," Langer, the Masters champion of 1985 and 1993, tells Golf Monthly in an exclusive interview. "I wanted to get onto the leaderboard over the weekend.
"I used to have a mindset of just making the cut and I don't know why. I missed the cut a few years in a row and I had to change my thinking.
"I was winning on the Champions Tour and playing some of the best golf of my life, so two years ago I came here with the mindset to get into contention and I played totally differently.
"I finished eighth, after having been two shots off the lead with 10 holes to go."
That was in 2014, and today Langer is in a tie for 15th and he will be teeing off in the third round with world number one Jason Day.
In the final 10 pairings this afternoon, Langer is the oldest player by 18 years. Next in line is Denmark's 40-year-old Soren Kjeldsen.
"I am only going to be about 50 yards behind Jason off the tee," laughs Langer, "but if I play well and manage the course the way I know I can, then I can be in contention, especially in these tough conditions.
"I have to be as aggressive as I possibly can. I have to bring my 'A' game as Tiger Woods would say."
The oldest winner of the Masters to date was Jack Nicklaus, aged 46 in 1986, 30 years ago, while the oldest major champion ever is Julius Boros, who was 48 when he claimed the 1968 PGA Championship.
"I am convinced that sooner or later one of the over-50s is going to win a major," adds Langer. "I am totally convinced of that. We have guys like Vijay Singh and Davis Love and a bunch of other guys who still hit it far enough to compete.
"For me to win I have to play the best golf of my life. I have to drive it well, judge the wind, hit some really solid irons and most of all, make some putts."
Robin Barwick travelled to the 2016 Masters with Mercedes-Benz. Mercedes-Benz is global sponsor of the 2016 Masters Tournament
Robin has worked for Golf Monthly for over a decade.