Coffee with a true gent
Bill Elliott enjoys dinner with the European Tour and Europe's new Ryder Cup captain prior to the 2011 US Masters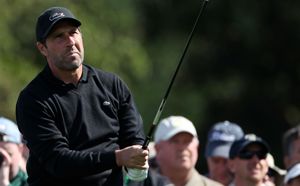 Dinner with the European Tour last night, a happy occasion made even happier when Jose-Maria Olazabal joined us for dessert and coffee. The European Ryder Cup skipper was in terrific form, looking forward to playing in the par three comp today and then the rather more serious stuff tomorrow.
"I am not expecting to win," he laughed. "But I am expecting to enjoy myself. If I had to pick one European to win this week then, for me, it would have to be Lee Westwood. Lee showed last year that he really knows how to play Augusta and that experience of really contesting the Masters can be so important to a player."
Ollie, meanwhile, is just glad to be pain-free at present. He says his specialists cannot guarantee either a cure for his arthritic problems but neither can they say if one day it will just go away and leave his body happy once more.
"At its worst it was bad. I could not reach out for a glass of water without really bad pain. It was crippling but, for now, I feel okay."
This is more than he could say about his great pal Seve. Ollie cannot speak about Seve's cancer problems without his eyes welling up. When he spoke softly about Seve's problems he wasn't the only one on our table with tears. I asked him to pass on Golf Monthly's readers' affection and best wishes. It seemed the least to do.
And then I told Ollie that when he first played the Masters as a pro I put each way money on him at 80-1. I continued backing him for several years until, finally, I lost faith in his ability to win this thing. This, naturally, turned out to be the year he won.
After laughing, he apologised to me. I told him it was too little, too late. Good bloke is Jose-Maria and destined to be one of the truly great Ryder captains. Already he and US skipper Davis Love have been exchanging friendly barbs. There's a long way to go but already the 2010 duel is gathering a head of steam.
Golf Monthly at the US Masters:
US Masters blogs Latest US Masters news Augusta hole-by-hole guide US Masters history and records
Bill has been part of the Golf Monthly woodwork for many years. A very respected Golf Journalist he has attended over 40 Open Championships. Bill was the Observer's golf correspondent. He spent 26 years as a sports writer for Express Newspapers and is a former Magazine Sportswriter of the Year. After 40 years on 'Fleet Street' starting with the Daily Express and finishing on The Observer and Guardian in 2010. Now semi-retired but still Editor at Large of Golf Monthly Magazine and regular broadcaster for BBC and Sky. Author of several golf-related books and a former chairman of the Association of Golf Writers. Experienced after dinner speaker.