Ryder Cup Quotes: Who Said What
Check out these Ryder Cup quotes from players past and present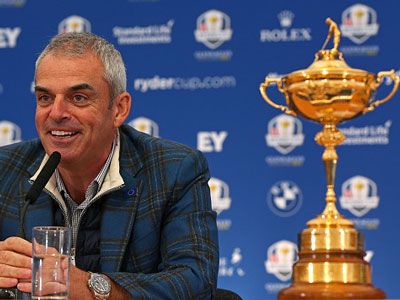 Players past and present react to Europe's resounding victory at Gleneagles while the US media starts to dissect the result
Ryder Cup Quotes
Paul McGinley on next captain:
- "I think we're very fortunate in Europe, a little bit like the Liverpool soccer team and the boot room, I think a lot of us have benefited hugely from being vice-captains. Darren [Clarke] has been a vice-captain along with many other guys. We will see where that all evolves and I'll make a professional decision based on the views of people that I respect."
On Tom Watson:
- "For me personally, as European captain, I will now be forever linked in the game's history books to my golfing hero Tom Watson."
And on congratulatory text from Luke Donald:
- "I don't want to break too many confidences, but it was just very respectful to me, very respectful to the team and very regretful that he wasn't part of it."
Rory McIlroy:
- "I was probably more up for this day than the two final days of the majors this year."
- "We had a great time with the American team last night, they seemed in good spirits. Tom wasn't there, he didn't really hang around too much.
"It was unfortunate. We don't know what the dynamic was in the team room. All we know is we had a great captain and we did the things we needed to do to be able to win the Ryder Cup.
"I'm sure the Americans will go back now and think about what didn't go right."
Nick Faldo on Twitter:
@rydercupEUROPE Fantastic Euro win! Will always wish I could have inspired such passion and amazing play in 08! #sadlya"Useless"Captain
Sergio Garcia on Nick Faldo:
- "I'm an open man and I'm always willing to forgive and forget. I think it was an unfortunate comment - I don't know if he regrets it or not.
"I've moved on, and you know, I'm sure that everything will be okay."
Jack Nicklaus on Tiger Woods:
- "Tiger, frankly, is not only a good player, but I think because he's been at the top of the game for so long, everybody looks to him for leadership. And Tiger, every time he was on my teams, he was a leader on my teams in the Presidents Cup. I think they miss him a lot."
Sir Alex Ferguson:
- "These players deserve their place in the pantheon of great golfers."
Jim Furyk on what the Americans need to do:
- "If I could put my finger on it, I would have changed this s*** a long time ago but we haven't and we are going to keep searching."
Ted Scott (Bubba Watson's caddie):
@jtedscott: "Congrats to Team Europe!!! They played great. The Scottish folks are the BEST crowd in golf! I love being here! My 2nd fav country on earth!"
John Daly puts his hat in to the ring for captaincy:
@PGA_JohnDaly: "Wish @RyderCupUSA would've won but congrats 2 my good friends @rydercupEUROPE team! #wellplayed #USAgonnagetyallin2016 #IwouldLOVEtoCaptain"
Jason Dufner backs his favourite:
@JasonDufner: "@PaulAzinger #2016"
Jesper Parnevik:
@JesperParnevik: "I know the @rydercupEUROPE team always want to win for Seve, but I think @torrancesam dad, Bob, was on all the players mind today....."
Reaction from the US media
Christopher Clarey of the New York Times:
- "It has become a rite of autumn: European golfers sinking putts, and Americans, and then showering one another with compliments and champagne."
ESPN's Gene Wojciechowski:
- "Watson didn't lose this Ryder Cup by himself, but his 2014 captaincy leaves no fingerprints, no legacy. He came, he saw, he lost. Mickelson's comments only accentuated the defeat."
Tom Clarke joined Golf Monthly as a sub editor in 2009 being promoted to content editor in 2012 and then senior content editor in 2014, before becoming Sports Digital Editor for the Sport Vertical within Future in 2022. Tom currently looks after all the digital products that Golf Monthly produce including Strategy and Content Planning for the website and social media - Tom also assists the Cycling, Football, Rugby and Marine titles at Future. Tom plays off 16 and lists Augusta National (name drop), Old Head and Le Touessrok as the favourite courses he has played. Tom is an avid viewer of all golf content with a particularly in depth knowledge of the pro tour.