Versa #7 putter
Golf Monthly Senior Staff Writer Paul O'Hagan tests the Odyssey Versa #7 putter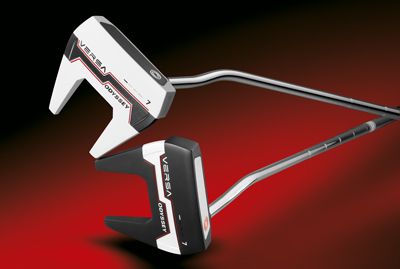 PGA pro verdict: Having spent many years using Odyssey putters, this made an immediate impression. Its striking, practical look helped me align the face with ease and confidence. And, thanks to the linear lines, I was also able to monitor my stroke and path while putting. The result was that I had confidence in my action throughout the stroke - By Top 25 Coach John Jacobs. Test team verdict: Performance: 5/5 Visual appeal: 4/5 Innovation: 4/5 Value: 4/5 Overall: 4.5/5
Why you can trust Golf Monthly Our expert reviewers spend hours testing and comparing products and services so you can choose the best for you. Find out more about how we test.
Aesthetics:
1) Address view - this is one of the major talking points here, thanks to stark black and white contrast lines, which accentuate the face angle at address, through the stroke and at impact.
2) Shelf appeal - the #7 has become instantly recognisable as an Odyssey model, much like the 2-ball. The two-pronged design will be the first that many are drawn to, as it manages to look forgiving without being too big and bulky.
Components:
3) Head options - there are seven very different head shapes available in the Versa range, which will appeal to a wide range of players. Each of these is available in white/black/white or black/white/black alignment colour combinations.
4) Grip - the Winn standard size putter grip offers a soft feel, and the pistol shape is extremely comfortable in the hands.
Technology:
5) Face design - the established and impressive White Hot insert has been tweaked to offer a more consistent sound, feel and performance across the face.
6) Head design - the high-contrast alignment technology accentuates the face angle from address through to impact, allowing you to keep the putter aligned throughout the stroke. The colour contrast focuses your attention on the linear designs to help square the face as it makes contact with the ball.
Performance:
7) Feel - the original White Hot insert was extremely soft, making it ideal on fast greens. This version still feels soft, but also offers more of a click off the face, inspiring confidence on slower greens.
8) Roll - compared to the Odyssey Metal X insert, the White Hot doesn't roll out quite as far. This will suit those who like to make an aggressive stroke.
9) Alignment - Odyssey has an impressive history of manufacturing putters that are easy to align, and the Versa takes things forward again. The #7 model already worked brilliantly for alignment, but now, thanks to the new colour aids, it's even easier to see where the face is aiming both at address and at impact. The theory works on both colour combinations, so which option you choose is down to personal preference.
10) Forgiveness - In terms of looks and forgiveness, this is one of the most impressive head designs on the market. The way the head is weighted makes it feel exceptionally easy to deliver the face square on to the ball. It's a great putter, further enhanced by the new alignment system.
Paul joined Golf Monthly in 2006 in a junior role and has since worked as senior staff writer and now as technical editor. He writes equipment and instruction content and tests the vast majority of golf clubs that are introduced every year.