Wedge Trainer Review
The Wedge Trainer is aimed at helping golfers of all ages and abilities to reduce the activity of the wrists when chipping and pitching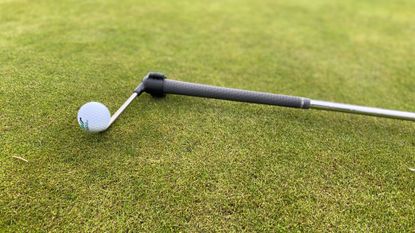 (Image credit: Mark Townsend)
For whatever reason there are relatively few short-game training aids even though nearly half your shots will be played with a wedge. The Wedge Trainer is a brilliant aid to encourage better body rotation, a more consistent impact position and improved distance control. If you struggle inside 100 yards then this should really help to ingrain some much-improved habits.
Reasons to buy
+

Outstanding for excessive wrist activity

+

Immediate feedback and improved strike

+

Encourages body rotation
Reasons to avoid
-

Is maybe less effective from longer distances
Why you can trust Golf Monthly Our expert reviewers spend hours testing and comparing products and services so you can choose the best for you. Find out more about how we test.
Wedge Trainer Review
Full disclosure; I have been a poor/abysmal chipper for the best part of 25 years. It's led me to some very dark places and has resulted in a lot of embarrassment and a lot of lost balls. So I get over-excited by the prospect of testing anything that might nudge me closer to respectability in this area of the game.
My initial thought when opening the Wedge Trainer was how neat it is, nicely packaged and being a one-piece bit of kit so it's easy to attach and put to use straightaway. There are left and right-hand options and there are three sizes for both – for sizing measure the circumference four inches above the wrist. It's worth taking the time to measure this as I tested two and the results and feel with the correctly-sized version made a big difference.
The sentiment of the Wedge Trainer is to reduce the activity of the wrists when chipping and pitching. It was designed to help golfers improve from within 100 yards and there is a degree of flexibility when using the training aid.
Personally I got most out of it when using it around the greens but if you were to attach the Wedge Trainer in the one o'clock position and put the ball a little further back in the stance then it is possible to play full pitches, think Steve Stricker, with a shallower angle of attack and the low launch, high spin shots that the tour players excel at.
The product has been developed with input from PGA and DP World Tour players and has been tested and put into the players' hands for the past two years before coming to market. What you do want when testing this type of kit is to get some immediate feedback and this is one area where the Wedge Trainer truly does excel.
Part of my problem with chipping is that I am double-jointed so there is little or no space between my forearms. Whether that is the reason that I take the club back on the inside I don't know but this is a very common problem with club golfers, there is very little body rotation, the hands and wrists do too much and the consistency of strike is poor. When it's good it can be great, with loads of spin, but generally anything can happen.
I played all my shots with the Wedge Trainer with a pitching wedge as I really want to understand the feeling of a very straightforward chip shot and to fully appreciate what a pitching wedge can do in terms of loft and feel. For the past five years my chipping has approached a level where it's nearing satisfactory but is not even close to where my handicap sits (6) and therefore remains a huge negative in my game.
If I were able to chip as I did with the Wedge Trainer on the course then I would comfortably save myself at least two shots per round on a good day and plenty more on a bad one. My chipping these days would best be described as 'functional' as in I'll find a way to get the ball around 15 feet away whereas, here, for several hours and for hundreds of chips I had confidence in landing my ball in the right spot with the right flight.
Similarly chip-and-runs were just about moving the ball forward, the strike improved considerably and the grouping of my shots condensed accordingly. The Wedge Trainer does encourage more body rotation as, after hitting a few, you soon realise that you are coming up short with everything as the hands are unable to add some extra yards.
There are a host of testimonials already on the Wedge Trainer but one stand-out quote comes from tour coach Damian Taylor.
"The Wedge Trainer really helps to control wrist set on the back swing. While keeping the bar attached to the forearm it encourages you to use the rotation of the torso to control the swing and therefore low point which will ensure you avoid the scooping action seen with many amateur golfers. All this helps to improve your strike and really sharpen up your short game."
If the video above shows you anything hopefully it demonstrates that there is more body turn and more space and time to hit the ball – the first two shots are played without the Wedge Trainer, the last two are played with it. There was a noticeable change in ball flight, as the wrists were taken out of the equation, and there was more rotation back and through. Poor shots were also noticeably better as there was more forgiveness using this technique.
The price (£89) might raise a few eyebrows for what looks like a simple piece of kit. Then again this might be more of a mindset given there are very few training aids on the market which focus on the short game.
One interesting scenario is if you gave an 18-handicap golfer a variety of clubs and training aids then this could well represent the best value for money in terms of game improvement. Unlike other similarly-priced training aids you can hit a ball with the Wedge Trainer so there is a guaranteed immediate feedback.
In a distance-obsessed modern world the Wedge Trainer is a very sound addition to your golf bag and is so neat that it will fit inside any pocket of your golf bag.
Mark has worked in golf for over 20 years having started off his journalistic life at the Press Association and BBC Sport before moving to Sky Sports where he became their golf editor on skysports.com. He then worked at National Club Golfer and Lady Golfer where he was the deputy editor and he has interviewed many of the leading names in the game, both male and female, ghosted columns for the likes of Robert Rock, Charley Hull and Dame Laura Davies, as well as playing the vast majority of our Top 100 GB&I courses. He loves links golf with a particular love of Royal Dornoch and Kingsbarns. He is now a freelance, also working for the PGA and Robert Rock. Loves tour golf, both men and women and he remains the long-standing owner of an horrific short game. He plays at Moortown with a handicap of 6.