RIP Speed driver
Golf Monthly Senior Staff Writer Paul O'Hagan tests the new Benross RIP Speed driver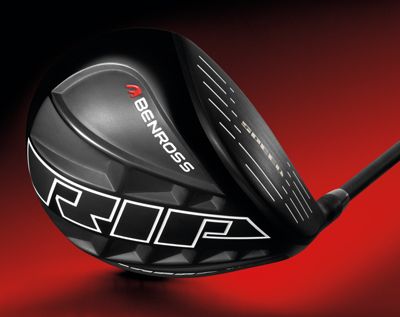 PGA pro verdict: First impressions were that this was a high-quality product. Benross offers great value for money, and this didn't disappoint on test. Ball speed was fast off the face at impact, and gave a penetrating flight. The stats showed a lower launch than expected, so you'll need to take that into account when selecting a model - by Top 25 Coach John Jacobs Test Team Rating: Performance: 4/5 Visual Appeal: 4.5/5 Innovation: 4/5 Value: 5/5 Overall: 4.5/5
Why you can trust Golf Monthly Our expert reviewers spend hours testing and comparing products and services so you can choose the best for you. Find out more about how we test.
Components:
1) Shaft options - As with the rest of the Benross range, the RIP SPEED driver is tailored to a specific type of golfer. This includes the Aldila RIP Phenom shaft, which has been selected to work with the 10-degree head to produce a low to mid trajectory with less spin.
2) Grip - The Concept 10 Tour Traction grip has appeared on a number of Benross clubs already, and provides plenty of grip in wet weather.
Technology
3) Adjustability - Rather than adjustability, you select a model from the three new drivers that suits your game best. It also means that there's no added cost.
4) Head design - The large, traditional, pear-shaped head features a raised centre of gravity to deliver a powerful, piercing ball flight that should suit fast swingers. Weighting is designed to offer a combination of shot shaping and playability.
Aesthetics
5) Shelf appeal - The best-looking head in the range, and one that will appeal to many. Graphics on the sole are simple and stripped back to match the appearance at address.
6) Address - One of the great things about the RIP, HOT and MAX ranges is that the look remains consistent through driver to fairway woods and hybrids. In the RIP range, that look is compact.
Performance
7) Flight - Very fast swingers might be worried that 10 degrees is too much loft, but the head and shaft combination work well to keep spin down and produce a penetrating flight.
8) Distance - I found that the HOT SPEED 12-degree driver produced the best launch and overall distance of the three Benross drivers, while faster-swinging digital editor Neil Tappin got more out of this version. This emphasises the point of the range, and it was impressive to see the difference between each model.
9) Forgiveness - Shots low and high on the face still flew impressively. The head design isn't as forgiving as the other two options, but helps to keep spin down, which is the point of this model.
10) Impact sound - Very solid and powerful, without being overbearing. An excellent club that performs superbly.
Paul joined Golf Monthly in 2006 in a junior role and has since worked as senior staff writer and now as technical editor. He writes equipment and instruction content and tests the vast majority of golf clubs that are introduced every year.