Why Paige Spiranac Was Right To Tackle Sexist Golf Post
This week was another sad reminder that sexism still exists in golf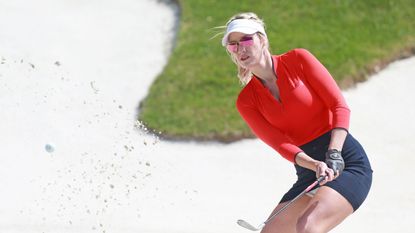 (Image credit: Getty Images)
A Twitter troll who calls himself the 'AlphaMale' has expressed some very contentious views on the speed that women play golf.
The author, Nick Adams, who also happens to be former US President Donald Trump's scribe, tweeted: "Can't there be a par 3 course set aside for the slow female golfers so they don't clog up the championship courses on the weekends? There's no reason women should be allowed to slow down the pace of play on a beautiful Saturday like today!"
High-profile American professional Paige Spiranac was among the many infuriated women who immediately retaliated: "It would be so satisfying out driving you all day long." Adding fuel to the fire, the 'AlphaMale' had the audacity to respond with another outrageous comment: "Listen Paige, you're not famous because of your golf swing or how far you can drive the ball." So Spiranac continued the feud by joking that she might call herself "AlphaJugs".
Isn't it sad that in this day and age sexist male chauvinist golfers like Adams still exist. There's no denying that Spiranac is an attractive female professional golfer who is not afraid to flaunt her femininity. She has forged a very successful career from it (she's the world's number one golf social media influencer). But let's not forget that first and foremost she started out as a talented golfer. She can most definitely out-drive many of her male counterparts.
As far as I'm concerned, self-proclaimed 'Alpha Males' are normally the complete opposite - insecure, outwardly confident but inwardly awkward individuals who lack self-esteem and substance. A lion doesn't have to tell you it's a lion, right? The more that people brag about their status, the less likely it is to be true. This influencer is not a leader of men or a role model to his followers. He's a disgrace. We shouldn't even be giving him the time of day.
Thankfully such sexist people are in the minority of society, nevertheless this Twitter carry-on proves that they still exist. And sadly it seems to be the social elite who are most among them.
I can't help but feel that there's a direct correlation between sexist opinion and people in power (sadly often the members of exclusive invite-only male-dominated golf clubs). I'm not going to condemn Adams or his connections to Trump (we all know how he's portrayed in the media), but surely allowing reckless freedom of opinion is not the way forward. People like this just need shutting down.
Just look at what happened to sexist social influencer Andrew Tate who got arrested for his controversial attitudes. Speaking your mind gets you nowhere. Opinions are like a tree. They might start off as a tiny seed but they quickly grow big and mighty and often.
As a parent I spend a great deal of time and care ensuring that my son grows up with deep respect and courtesy for all genders. It's also prominent in his education at school. Freedom of speech is important but let's not pass on golf's old-fashioned sexist attitudes from yesteryear to the next generation. Adams has a huge following and an opportunity to be a positive influencer. He's abusing his power.
Why couldn't he just refer to his frustration at having to follow "slow players" rather than pointing out that they were women. At least we wouldn't be so outraged at such a sexist slur. I honestly can't see what he has got to gain? A few more sexist followers just like him, perhaps? I'd put money on him losing more fans than he gains.
To suggest that women should be playing a par 3 course because they're not good enough to play a championship course is ludicrous. In fact, out of the 100 plus female members of my home club, ranging in handicap from 54 to plus two, I can name the slow players on one hand.
Yet I can give you a dozen reasons why any golfer, regardless of gender, could be slow - their age, an injury, general ability (or should I say lack of it), beginners learning the game who take longer, serious players who spend too much time reading greens, choosing and changing their club selection, the common chatterbox who spends more time talking than concentrating on hitting their shot…the list goes on and on.
Yes there are some slow women among them but to throw us all into the same pot is totally unfair. I'm a woman with a single figure handicap index. I play fast. I've tackled hundreds of tough championship courses and shot in the seventies in under three hours (a clear course permitting), carrying my bag. I'm certainly not in the minority.
I could (almost) support AlphaMale if he was having a rant about slow play in general. We all know that infuriating feeling of a five hour round stuck behind slow players. But the snails are just as likely to be a bunch of male beginners, juniors and older golfers who lack the fitness and physique to walk fast. Why not complain about these groups?
Just because the stereotypical woman doesn't hit the ball as far as a man does not mean she is automatically a slow player. Surely it doesn't matter how many shots it takes to get to the green, rather the speed in which you do so?
Women's tees are deliberately positioned forward of the men's for this very reason. We get a head start, hit and walk. I often play off the men's tees to be sociable. Yes I'm nearly always hitting into the green first, and often with a fairway wood, but it doesn't matter because I'm more accurate, so I waste fewer shots having to recover and get up and down.
I've been a victim of sexism in golf on many occasions. In fact the very first time my Dad took me out on a golf course was on a Saturday morning because I was in school on weekdays. He recalls that there was quite a lot of muttering from the men waiting to tee off that morning at the sight of a junior girl heading on the course, and on a Saturday morning!
I caused quite a stir, at least until the men saw me drive off and boom the ball straight down the middle!
Fast-forward thirty years and it's still happening. I played in a friendly fourball yesterday, two ladies decided to walk in after 6 holes due to the cold, leaving two of us to play on. It's a little walk across the main road to the par 3 7th tee and when we arrived there was a group of seniors who had mysteriously appeared and were heading up to the green. We had to wait a fair few minutes for them to finish the hole before we could tee off.
As we strolled up to the green they overheard us complaining that there had been no-one on the course ahead of us, so one of them proffered: "We saw you were a fourball of ladies and thought that we would be much quicker." So they cut in. Can you believe the audacity!
Even worse, they never offered to let us play through! I have no doubt that this would not have happened if they had seen a fourball of men putting out on the sixth green.
On another occasion I joined a queue of golfers in member's time waiting to tee off. When it came to my turn a group of men suggested that they were, in fact, next in-line to play. They showed no courtesy to me as a one-ball with an open course ahead. Fortunately as we were debating the tee slot position an ex-Lady captain walked past and put them in their place, suggesting that they really wouldn't want me playing behind them, one of the best players in the club, having to wait on every shot. Thankfully her stern words worked.
I could spend all day telling you about these types of experiences but it would be a pointless waste of my energy. Sexism still exists in golf. Fact.
It's nowhere near as bad as it used to be, but it's still there. So I'm not surprised that AlphaMale Adams had the audacity to tweet his narrow-minded views about women golfers on one of the biggest social media platforms in the world. In my opinion it's made him look like a total sexiest fool.
If it was a clever ploy to draw attention to himself then he's certainly done that, but for all the wrong reasons. So let's not pander to this publicity-seeking parrot anymore. Don't add to his Twitter 'hits'. He can squawk his sexist views as loudly as he likes, but women let's stand together in defence of our right to play on what courses we like, when we like.
I applaud Paige for using her influence to do so.
Carly Frost is one of the golf industry's best-known female writers, having worked for golf magazines for over 20 years. As a consistent three-handicapper who plays competitive club golf at Parkstone and the Isle of Purbeck courses in Dorset every week, Carly is well-versed in what lady golfers love. Her passion for golf and skill at writing combine to give her an unbeatable insight into the ladies game.
Carly's role at Golf Monthly is to help deliver thorough and accurate ladies equipment reviews, buying advice and comparisons to help you find exactly what you are looking for. So whether it's the latest driver, set of irons, golf ball, pair of shoes or even an outfit, Carly will help you decide what to buy.
Over the years Carly has been fortunate to play some of the greatest courses in the world. Her view 'from the ladies tee' is invaluable. She ranks Sea Island, Georgia, USA, where she met her husband, world-renowned golf coach Dan Frost, among her favourite golf resorts. Their aptly-named eight-year-old son Hogan is already hitting the ball as far as Mum and will undoubtedly be a name to watch out for in the future.
Carly is a keen competitor and her list of golfing achievements are vast. She is a former winner of the South West of England Ladies Intermediate Championship, a three-time winner of the European Media Masters and she once beat an entire start-sheet of men to the title of Times Corporate World Golf Champion. She has played for both the Dorset and Surrey County Ladies first teams and is known for her excellent track record at matchplay.
Carly holds the ladies course record (68) at her home club Parkstone and her lowest competition round (seven-under-par 65) was carded in the pro-am of the Irish Ladies Open at Killeen Castle, playing alongside Solheim Cup superstar Anna Nordqvist. Although her current handicap index has crept up to 3.7 since Covid she has her sights firmly set on achieving that elusive scratch handicap and hopefully playing for her country when she's 50.
Carly's current What's In The Bag?
Driver: Callaway Epic Max, 10.5°
Fairway wood: TaylorMade SIM2, 15°
Hybrids: Titleist TS2, 19°, 21°, 24°
Irons: Mizuno JPX900, 5-PW
Wedges: Cleveland RTX, 52°, 56° and 58°
Putter: Scotty Cameron Futura X5
Ball: 2021 Callaway Ladies SuperSoft