WATCH: Pro Golfer Snaps Putter Over Knee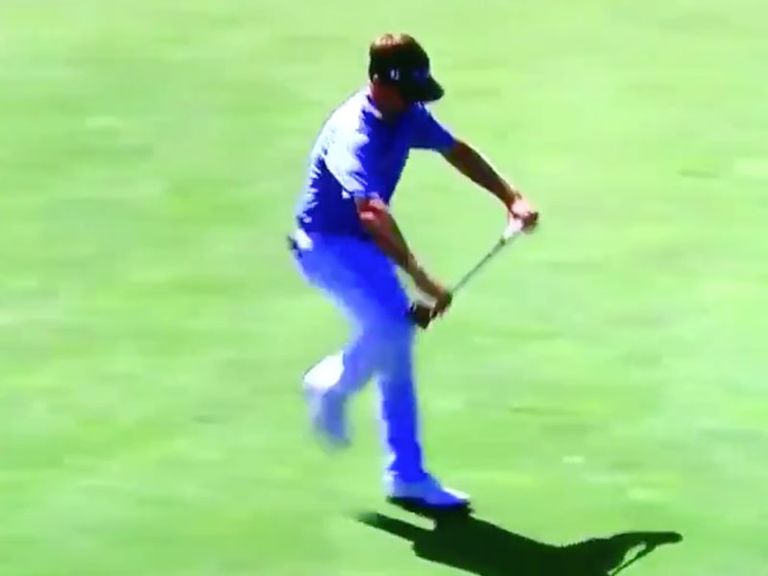 John Peterson showed some frustration during the Web.com Tour finals
WATCH: Pro Golfer Snaps Putter Over Knee
The Web.com Tour finals have begun this week with stars of the second-tier Tour and those who didn't quite make the FedEx Cup Playoffs battling it out for their 2019 PGA Tour cards.
It can all get a bit stressful with golfers playing for their livelihoods and one pro in particular, John Peterson, was seen showing some frustration.
The American made a nice putt on the 15th hole and proceeded to snap his putter over his knee whilst walking off the green.
Whilst the graphic said it was for par, he was actually actually putting for his third straight bogey in a row.
That bogey dropped him to four over par and at the time of writing he is second-last in T135th spot.
Peterson joked on Twitter after that he was rolling it nicely with his 52° wedge on the final three holes.
He most certainly isn't the first professional to lose their rag or break one of their clubs and he won't be the last.
Here are some other times pro golfers lost their tempers...
Expand WATCH: Thomas Pieters Snaps Club On His Neck
WATCH: Thomas Pieters Snaps Club On His Neck
Pieters showed incredible neck strength in breaking his…
Expand Brooke Henderson Smashes Club In Half, Nearly Injures Caddie
Brooke Henderson Smashes Club In Half, Nearly Injures Caddie
The Canadian showed some frustration during the Women's…
Expand WATCH: Sergio Garcia Throws Driver Into Bushes
WATCH: Sergio Garcia Throws Driver Into Bushes
The Spaniard lost his cool during the second…
Expand WATCH: Sergio Garcia Breaks Putter And Putts With Driver, 3 Wood And Iron
WATCH: Sergio Garcia Breaks Putter And Putts With Driver, 3 Wood And Iron
Garcia broke his putter in the Dell Technologies…
Expand WATCH: Pro Launches Putter Into Trees During Tournament
WATCH: Pro Launches Putter Into Trees During Tournament
Watch as a pro golfer throws his putter…
Expand Luke List Putts With Wedge In Match Against Justin Thomas
Luke List Putts With Wedge In Match Against Justin Thomas
The big-hitting american bent his putter on the…
Expand WATCH: Sergio Garcia Slams Club At Bag, Makes Caddie Jump
WATCH: Sergio Garcia Slams Club At Bag, Makes Caddie Jump
The Spaniard showed some frustration at the RBC…
For the latest golf news, check the Golf Monthly website and follow our social media channels