On the spot with Anthony Kim
Q&A with three-time PGA Tour winner Anthony Kim ahead of the 2010 Ballantine's Championship in Korea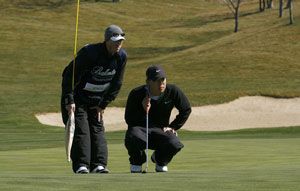 Some of the leading players who will be appearing at the forthcoming Ballantine's Championship in Korea, Anthony Kim unwinds with a glass of Ballantine's in the clubhouse bar.
Q. What's your favourite golf course?
AK: Every course I win on.
Q. Which player do you most admire?
AK: Tiger Woods.
Q. What's the best shot you've ever hit?
AK: My approach shot on the par-4 12th in the third round of the Houston Open earlier this month. I'd pulled my drive and left myself with a lot to do - a tough shot in from an awkward stance with a pond on the other side of the green, but I took a wedge and hit it to within a foot for birdie. I told my caddie, "If I don't hit this perfectly, it's going to go 50 yards in the water."
Q. Do you get nervous?
AK: Absolutely!
Q. What's your most treasured possession?
AK: My dog, Rocky.
Q. Who or what makes you laugh?
AK: My friends.
Q. What would you be doing if you weren't a professional golfer?
AK: Really tough question! I honestly can't say.
Q. When was the last time you shouted at the TV?
AK: About five minutes ago!
Q. What are you good at that people may not know?
AK: Eating!
Q. What's your favourite song?
AK: I don't really have one.
Q. If you're in a club or at a party, do you dance?
AK: Not really.
Q. What's your favourite movie?
AK: The Hangover - it's absolutely hilarious.
Q. How do you relax after a round?
AK: I like to watch reality TV.
Q. Ballantine's likes to "Leave an impression" - do you hope to do this in Korea?
AK: Yes, for sure. My Korean heritage is very important to me and I always feel fortunate to visit Korea.
Q. What would you like written on your gravestone?
AK: That I helped change other people's lives in a positive way.
Where next?
Thongchai Jaidee: Jaidee excited by Ballantine's Championship defence Graeme McDowell: McDowell looking to regain Ballantine's Championship Competitions: Win golf prizes Equipment: Latest equipment reviews
Betting experts, writers and video producers. Couple of guys in our early 20's looking to bring the sport that we love into a new era.'