New ICONS Cup event launched
Low-handicap, A-list athletes face off in Dubai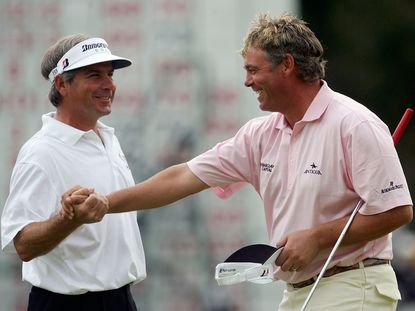 (Image credit: Getty)
The 12-person teams to be announced later this month will consist of stars from a multitude of sports including football, baseball, rugby, tennis, American football, cricket, basketball, swimming and more
2015 will include a new Dubai-based event pitting legendary American and International sports stars against each other in a team-style two day match. The ICONS Cup will be played on the Earth Course at Jumeirah Golf Estates on 23-24 April.
The ICONS Cup will feature low-handicap, A-list athletes playing high pressure matches. The 12-person teams, to be announced later this month, will consist of stars from a multitude of sports including football, baseball, rugby, tennis, American football, cricket, basketball, swimming and more.
The two sides will be led by golfing legends from both sides of the Atlantic. Fred Couples serves as Team USA Captain whilst Darren Clarke takes charge of Team Rest of the World.
PGA Tour legend Couples, 55, is a former world number one and 1992 Masters champion as well as recent World Golf Hall of Fame inductee. 'Boom Boom' has played on five Ryder Cup teams as well as four Presidents Cups. He has also captained the Team USA to victory for the last three successive meetings.
'I've participated in some truly remarkable sporting events. While those experiences have been tremendous, the ICONS Cup will be something new for me', said Couples.
Darren Clarke, 46, is a former Open Championship winner and European Tour stalwart. Experienced when it comes to match play, the Northern Irishman was a member of five Ryder Cup teams and Vice Captain to Colin Montgomerie at the 2010 Ryder Cup at Celtic Manor.
'It will be really interesting to see how these great sportsmen react to the unique pressures of team golf', said Clarke. 'Collectively, they've won scores, but pushing them to find their top form on the course will be a fun challenge', he added.
The format of the event will be as follows:
April 23 – Morning foursomes followed by twelve singles matches April 24 – Twelve singles matches
More information can be found at www.iconscup.com
A politics graduate, ex-musician and European football guru, but most passionate about all things golf, in particular golf course design, equipment, growing the game and his beloved Hollinwell.