Golf Monthly Centenary Society day - Marriott Dalmahoy
Golf Monthly readers took on the brutal East course at Marriott Dalmahoy where four places in the Grand Final at Marriott Forest of Arden were up for grabs.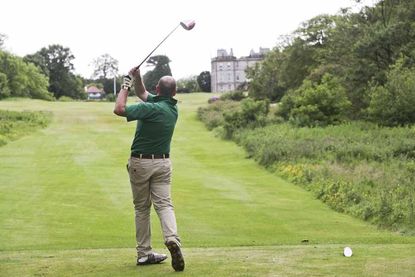 The biggest field so far in Golf Monthly's series of Centenary Society regional qualifiers gathered at Marriot Dalmahoy, just seven miles from the centre of Ediburgh. With the course playing its full length and intermittent showers, players faced a tough challenge. The East Course at Dalmahoy has previously hosted the Solheim Cup and the Scottish Seniors Open. It was originally designed by James Braid but has changed dramatically over the years including being extended in 1990 when it was turned into a hotel and country club. Wide fairways allow driver to be hit on most holes, which is vital for a course that measures 7055 from the white tees. Players were not only faced with a length challenge, conditions were breezy throughout the day and rain showers made it difficult for the second half of the strong field.
There were four places in the Grand Final at Marriott Forest of Arden available and all four handicap groups were closely run. The best scores of the day came in the 7-11 and 12-16 handicap groups with both winners compiling and impressive 37 points. In the 7-11 group it was 7 handicapper Keith Brodie who took victory with an impressive gross score of 79. Douglas Edgar secured first place in the 12-16 group, his 37 points included an impressive 22 points on the front nine.
In the low handicap category (Scratch-6) it was Fraser Murdoch who claimed a place in the final. The 2 handicapper produced a solid 33 points to take victory. Simon Smith finished with the same score to win the 17+ handicap group and take the last spot in the final. All four winners will take on competitors from other regional qualifiers.
The three winners were provided prizes courtesy of Srixon/Cleveland Golf and they will meet again at the Marriott Forest of Arden for the Grand Final where they will compete against other regional winners.
Places are still available at all four remaining Golf Monthly Centenary Society golf days. TO REQUEST AN ENTRY FORM PLEASE EMAIL: golfmonthly@ipcmedia.com
North West - July 21, Marriott Worsley Park, £40 Midlands - July 27, Marriott Breadsall Priory, £40 Wales/West - August 2, St Pierre, £45
Paul joined Golf Monthly in 2006 in a junior role and has since worked as senior staff writer and now as technical editor. He writes equipment and instruction content and tests the vast majority of golf clubs that are introduced every year.