Geoff Ogilvy leads Mercedes-Benz Championship
Geoff Ogilvy surged into an early lead at the Mercedes-Benz Championship in Hawaii after carding a flawless 67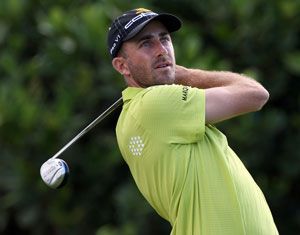 Geoff Ogilvy surged into an early lead at the Mercedes-Benz Championship in Hawaii after carding a flawless 67.
The Australian leads by a stroke at the Kapalua Golf Resort after round one, on six-under, ahead of Ernie Els, Ryder Cup hero Kenny Perry and Johnson Wagner.
Six birdies, three on the way out and three back in, gave the hard-working Australian, who has not been taken much of a break, the outright lead.
"We only finished the Australian Open three weeks ago, and three weeks isn't enough to get rusty," said Ogilvy.
But the PGA's season-opener is sure to be fiercely contested especially with three-time Major winner Els in the mix.
The big South African led at one stage courtesy of a strong start that included two birdies and an eagle in the first six holes - only to bogey at 15 and eventually return a 68.
FedEx Cup winner Vijay Singh, who will have knee surgery next Wednesday, could only manage a level-par 73.
Meanwhile, the much-fancied Anthony Kim made a solid start with a two-under 71, and young Colombian Camilo Villegas carded a one-over 73.
Where next?
Tour news: Vijay Singh signs up with Cleveland Golf/Srixon New Gear: Exclusive 2009 gallery