Anton Haig retires from golf
A back injury has forced South Africa's Anton Haig to retire from golf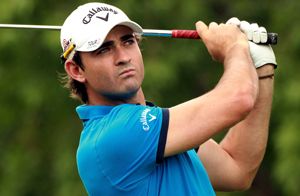 Anton Haig has announced his retirement from professional golf following a seven-year career on tour.
A leading neurosurgeon confirmed that Haig would be unable to continue his chosen career due to the severity of his condition.
Imaging diagnosis has confirmed osteophytic impingement, combined with a bulging disc in the cervical vertebrae, and although an operation may have reduced pain it's not guaranteed to alleviate the problem.
Following a successful career as an amateur, Haig was awarded his junior national colours at the age of 14.
Turning pro at 18, Haig's professional career was managed by Chubby Chandler and the International Sports Management (ISM) team. Early wins on the Sunshine Tour included The Seekers Pro-Am in 2004 followed by The Namibian Open in 2006.
Under ISM's guidance Haig qualified to join the Asian Tour at 19 and made an almost immediate impact, winning the 2006 Pulai Springs Malaysian Masters. He then became only the sixth affiliate member of the European Tour to capture a title and therefore attain status as a full member when he won the 2007 Johnnie Walker Classic in Phuket on only his 18th Tour start.
"I enjoyed my golfing career as I was able to travel the world extensively, having made many wonderful friends in all the great countries I was privileged to visit," said Haig. "I am very grateful to SAGA, the European and Asian Tours and particularly Chubby Chandler of ISM and Johan Rupert and the Sunshine Tour for their extraordinary support and guidance."
"I love the game and therefore will not be leaving the golfing fraternity as I will be involving myself in giving back what this great game has given to me!"
See also:
Betting experts, writers and video producers. Couple of guys in our early 20's looking to bring the sport that we love into a new era.'