Tom Doak Set To Design New Course At Pinehurst Resort
Acclaimed architect Tom Doak will design a new course at Pinehurst Resort which will open in late spring 2024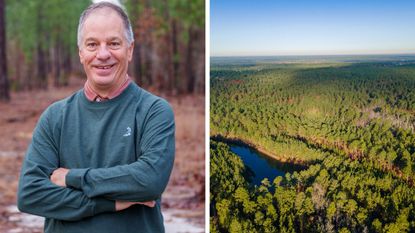 (Image credit: Pinehurst)
Renowned golf course architect Tom Doak will design Pinehurst Resort's first new golf course in nearly three decades starting this month and it will be expected to open late spring of 2024 to coincide with the return of the US Open to the famous Pinehurst No.2 - one of the very best public golf courses in the US.
Doak is one of the most decorated golf course architects of the modern era, having designed the likes of the Renaissance Club in North Berwick, Cape Kidnappers and Ballyneal among many others, and the new No.10 course at Pinehurst is set to incorporate rugged dunes highlighted by native sand and wiregrass.
"The site is topographically distinct and drastically different from anywhere in Pinehurst," Doak said. "It's bigger, bolder and more dramatic. There's about 75 feet of elevation change, and we'll work our way up to it around the mid-point of the layout. You'll have expansive views from this apex over the rest of the course. It will be an unforgettable experience for golfers."
Doak rated the fabled Pinehurst No.2 a perfect ten in his book The Confidential Guide to Golf Courses and Pinehurst Resort President Tom Pashley is looking forward to seeing what Doak can create.
"Tom Doak builds incredible golf courses on sand, and we're excited to see what he'll create in the North Carolina Sandhills," Pashley said. "We've worked with some amazing golf architects who've embraced our natural aesthetic and believe Tom will do something fantastic on this site."
Angela Moser will serve as Doak's lead design associate for the project and Doak is excited about working with the regions topography to create another stunning design at the Pinehurst Resort.
"The number one thing that excited us about the project is working with the beautiful sand that's native to this region," Doak says. "The sand, the wiregrass, the bluestem grass, and other native grasses that grow around the Sandhills create a fabulous texture for golf. It's something most places just don't have."
The No.2 course is hosting six Major Championships over the next 24 years, including five US Opens and a US Women's Open, with both editions being held in the same year in 2029, the second time this has happened after 2014, where Martin Kaymer and Michelle Wie triumphed in consecutive weeks.
Ross Kilvington is a freelance writer from Scotland who has had his work published by acclaimed publications such as Nutmeg alongside popular online blogs including the Gentleman Ultra, North Section and Engrossed in Football. Ross holds a passionate interest in golf and tries to play as often as possible, although having two daughters under the age of four means his quest to break 80 will have to wait a little bit longer. He writes about golf in his spare time, most recently having an article published in the Golf Memories anthology Mind the Links, which was released in July with all proceeds going towards Alzheimer charities. With a handicap that floats between 13-14, highlights are few and far between on the golf course, with an eagle on the par 4 16th at Kinghorn one that stands out (it doesn't matter that it was only 290 yards!).