Take part in Pin Seekerz's North v South competition!
Rick Shiels and Peter Finch will be among the team captains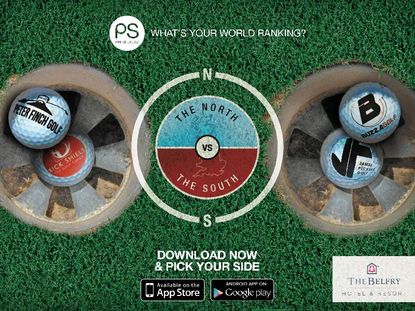 Rick Shiels, Peter Finch, Steve Buzza and James Pickard will captain the teams.
Take part in Pin Seekerz's North v South competition
Pin Seekerz are giving you the chance to be part of a North v South competition to find out which region is better at golf!
YouTube golf personalities Rick Shiels and Peter Finch will captain the teams from the North, with fellow internet stars Steve Buzza and James Pickard captaining the South.
The aim is to play as many rounds of golf as possible over the winter months for the North or South regions using the Pin Seekerz application, which uses Stableford and bonus points systems of scoring.
The team that has accumulated the most points by the end of February will earn their side one early point before the final matches take place.
If you're in the top 7 by February 28th you will play in one of the North or South teams, captained by Rick, Pete, Steve or James, in the final matches at The Belfry in Spring.
Even if you're not in the top 7 by the cut-off point, you could still make one of the teams through being in the top 50. The captains will get a wildcard pick, so make sure you stay competitive!
The final matches will take place over the course of a day, with morning fourball sessions and afternoon singles deciding the outcome.
Not only will you be representing your region alongside some of the online golf community's most well-recognised faces in person, your exploits will be broadcast on their social media channels as well.
Over 110,000 subscribers will be able to follow the action via YouTube and other platforms. So if you think you can handle the pressure, why not get involved?
Competition will start on November 2nd but you can sign up for your chosen team right now.
How to enter:
1. Download Pin Seekerz from the Apple and Google Play store
2. Make sure your local course is on the app (this can be requested within the app)
3. Go to www.pinseekerz.com/north-south to choose your team and pay the entry fee
4. Within 2 days, your league will appear within the app ready for competition on November 2nd
Click here to go to the competition's site.
Will Medlock graduated from UEA with a degree in Film and Television before completing a Masters in Sports Journalism at St Mary's in London. Will has had work published by The Independent and the Rugby Paper.