Movember Challenge
Urban Golf GM attempts 60 consecutive rounds of golf for Movember charity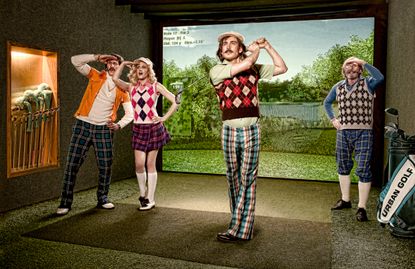 (Image credit: GS)
Movember Challenge
Urban Golf GM attempts 60 consecutive rounds of golf for Movember charity
On 24th November, Urban Golf General Manager, David Ford will begin his challenge to play 60 consecutive rounds of golf at Urban Golf in Kensington.
Raising money for the Movember Foundation, Ford aims to promote awareness of prostate and testicular cancer. Donations would be highly appreciated.
Directed by the Movember Foundation, the programmes are focused on awareness and education, living with and beyond cancer, to achieve an everlasting impact on the face of men's health.
Throughout his endeavours, Ford will also be sporting an exquisite moustache while taking on this gruelling challenge.
Taking place at the golf simulator facility in Kensington, spectators are welcome to support him along the way.
Estimated to take 30 hours and a staggering 4500 shots, Ford will push himself to the physical limits on the simulators at Urban Golf.
Expecting to leave it all on the field, Ford is calling time on his turbulent golf career at the conclusion of the event, "This challenge is going to hurt my already ailed body." Joked Ford.
"My only inspiration will be raising money for such a worthy cause and doing some good with a game that I can happily say I enjoyed until 24th November 2013." He added.
Throughout his journey, Ford will be writing about the challenge, as well as recording a film to track his progress.
Regular updates of his training and mental preparation are available at http://www.urbangolf.co.uk/play-golf/fordys-movember-challenge
To donate to the charity, you can do so via this link http://uk.movember.com/mospace/6726901
Lee was a freelance writer for Golf Monthly from 2013 to 2015.