English woman comes third at World Long Drive Championship
Rebecca McGinley hit a terrific 311 yard drive in the final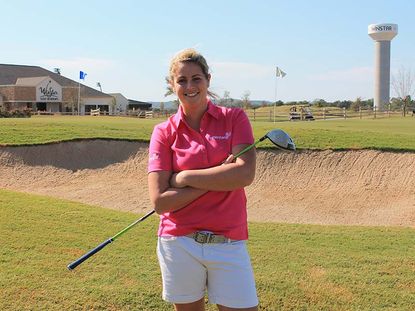 Rebecca McGinley's 311 yard drive was only 10 yards behind Sandra Carlborg's winning shot.
England's Rebecca McGinley came third at the World Long Drive Championship on Wednesday.
Competing in only her second long drive event, McGinley, a professional from Wearside, finished with a huge 311 yard drive, only 10 yards behind the winner, Sandra Carlborg.
The four-time champion Carlborg's 321 yard drive was three yards longer than second placed Heather LeMaster.
WATCH: How to hit driver
McGinley said afterwards: "It's an amazing feeling to have come this far in World Championships.
"It was only May when I had a go at qualifying at the Gateshead American Golf store and now I'm the American Golf Champion and officially the third best Women's Long Driver in the world.
"I've had an amazing time and am so grateful to have had the opportunity to show what I can do," she added.
McGinley's qualifying drives moved from 271 yards to 291 and eventually 310. She competed in a sudden death qualifier, which she won after hitting her ball 307 yards.
From there she faced off against Carlborg and 2013 winner LeMaster.
McGinley added: "What started as a bit of fun has turned into an incredible, life changing expeience.
"Sandra and Heather are two fantastic competitors that the American Golf competition has given me an opportunity to take on. I just need to work on my Long Drive swing and I'll hopefully come back next year to perform even better."
Joe Miller is the men's long drive champion and you can read our interview with him by clicking here.
Joe talks about being the best at what he does, when he first knew he could hit the ball far and how he would fare on the European Tour.
For advice on how to hit your driver consistently well, check out our tips section. You can also head to the gear section of our website to read about some of the latest drivers, including the TaylorMade M1.
Will Medlock graduated from UEA with a degree in Film and Television before completing a Masters in Sports Journalism at St Mary's in London. Will has had work published by The Independent and the Rugby Paper.