Casey wins second Alps Tour title
The Englishman won his second tournament on the Alps Tour this season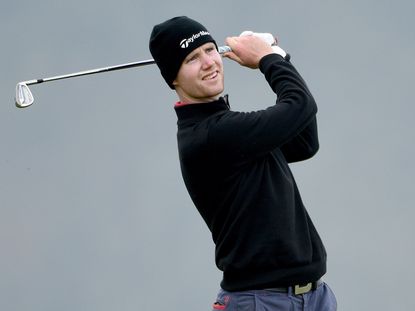 The Englishman won with a score of 15 under in France.
Harry Casey won his second Alps Tour title at the Open de la Mirabelle d'Or in France on Sunday.
The Englishman shot rounds of 67, 65, 69 and 68 on his way to victory at the Golf de La Grange aux Ormes.
Casey, 22, shot 15 under over the course of the four days, finishing a shot clear of Damien Perrier.
He arrived in France on the back of his second consecutive tournament finish in the top 5.
Twice Casey eagled the 12th hole - in both the third and fourth round - and he also collected 17 birdies and six double-bogeys on his way to the title.
Casey, who turned professional in 2014, now sits top of the Alps Tour Order of Merit with 18, 187 points, having played in 11 tournaments this year.
The win in France was his second of the year, after he took his first professional title on the tour at the Gosser Open in May.
Casey said: "I have to admit I did not sleep well last night. I was nervous.
"Even coming in with the lead at the end of the round I did not feel totally comfortable but I was hitting good shots."
With the Flory van Donck Trophy in Belgium teeing off tomorrow, Casey drove overnight to prepare for the tournament.
Will Medlock graduated from UEA with a degree in Film and Television before completing a Masters in Sports Journalism at St Mary's in London. Will has had work published by The Independent and the Rugby Paper.