'It's Unlimited Money' - Donald Trump Says More Big Names Will Join LIV
Former US president Donald Trump says Saudi LIV Golf backers are "very good people" as he blasted PGA Tour bosses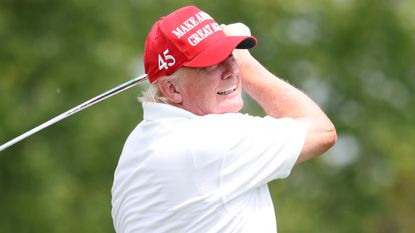 (Image credit: Getty Images)
Donald Trump says "something should happen" to PGA Tour leaders for not sorting out an agreement with the "very good people" at LIV Golf – and warned that more big-name players would make the switch next year.
The final event of the LIV Golf season is taking place at Trump Doral in Miami, where the former US president played in the pro-am before talking with a small pack of media. No fans were allowed in for the pro-am.
Trump spoke on a few issues – claiming that his Trump Turnberry resort could be back on the Open rota soon, and how his Doral Resort could also be back on the PGA Tour schedule.
The PGA Tour came under fire from the 76-year-old though, who was glowing in his praise for the Saudi Arabian-backed LIV Golf series as it comes to a close in its debut season.
"I think that ultimately something gets worked out, but the Tour handled it so badly," Trump said. "The people at the top, something should happen with them.
"Something could have been worked out very easily but the Tour decided to, as Richard Nixon said, 'stonewall' it and that hasn't worked out too well. They are dealing with very good people with unlimited money.
"It's big time, it's big-time money and it's unlimited money. The Saudis have done a good job and they love golf. It's different, the enthusiasm."
NEW VIDEO: Donald Trump strikes an impressive golf shot today and says: "You think Biden can do that?" #Trump #DonaldJTrump #DonaldTrump #MAGA pic.twitter.com/tPCvOzL21zOctober 28, 2022
See more
The LIV Golf Team Championship will see teams playing for $50m, while the series will expand from eight to 14 events next season to unlock more huge potential earnings.
And Trump, who played with Brooks Koepka and Sergio Garcia on Thursday, warned the PGA Tour that more big names could make the switch next year.
"A lot of others are coming over, big names, they're coming over" he said. "The star system is always very important in sports.
"You don't have the star system, you are not going to be successful - and they've got the stars."
Paul Higham is a sports journalist with over 20 years of experience in covering most major sporting events for both Sky Sports and BBC Sport. He is currently freelance and covers the golf majors on the BBC Sport website. Highlights over the years include covering that epic Monday finish in the Ryder Cup at Celtic Manor and watching Rory McIlroy produce one of the most dominant Major wins at the 2011 US Open at Congressional. He also writes betting previews and still feels strangely proud of backing Danny Willett when he won the Masters in 2016 - Willett also praised his putting stroke during a media event before the Open at Hoylake. Favourite interviews he's conducted have been with McIlroy, Paul McGinley, Thomas Bjorn, Rickie Fowler and the enigma that is Victor Dubuisson. A big fan of watching any golf from any tour, sadly he spends more time writing about golf than playing these days with two young children, and as a big fair weather golfer claims playing in shorts is worth at least five shots. Being from Liverpool he loves the likes of Hoylake, Birkdale and the stretch of tracks along England's Golf Coast, but would say his favourite courses played are Kingsbarns and Portrush.