'It's Been Strange' - Bradley On Best Friends Leaving For LIV
Keegan Bradley regrets losing two of his best friends to LIV Golf, but is a fan of the format used by the new tour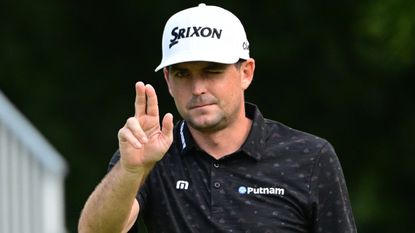 (Image credit: Getty Images)
Keegan Bradley says he has a different, more positive view on LIV Golf than many others on the PGA Tour, but was still badly affected by the new tour as he's seen some of his closest friends in golf leave.
Bradley now finds himself as "one of the older guys out here" leading a more solitary existence after close friends Brendan Steele and Cameron Tringale left to join Phil Mickelson's team in the LIV Golf League.
"Well, it is because a bunch of my friends have gone to LIV recently," Bradley told the Drop Zone podcast. "Brendan Steele is one of my closest friends in the entire world. He was in my wedding, we play every Tuesday together, every dinner on the road, our families are friends - and then overnight he's gone.
"The other guy that I used to play golf with and hang with is Cameron Tringale, and he's gone. They're on the same team! So it's certainly been strange in that aspect.
"Because all of a sudden, overnight, I look around and I'm one of the older guys out here. And the younger guys have their own crew and what they do — it's been strange, especially with Steeley gone. Like, really been strange this last month or so."
Bradley has no hard feelings towards the players who have joined LIV Golf, and is even a fan of the team format, but decided not to join the exodus as he values playing in the Majors and winning big PGA Tour events more highly.
"I have a much different view than a lot of guys," Bradley added. "I don't have any hard feelings to the guys that went [to LIV].
"I'm happy for the guys that went and got a ton of money - I mean, that's what we're doing out here. For me, like, I want to win the Players. I want to win Bay Hill, Memorial.
"To be honest with you, I think the setup of how they do it, with the teams and the way they're all playing, I think it's brilliant.
"I loved the concept, I thought it was smart. But ultimately, playing in the US Open at Brookline really, like, I can't miss this. This is too big, this is too important to me."
Paul Higham is a sports journalist with over 20 years of experience in covering most major sporting events for both Sky Sports and BBC Sport. He is currently freelance and covers the golf majors on the BBC Sport website. Highlights over the years include covering that epic Monday finish in the Ryder Cup at Celtic Manor and watching Rory McIlroy produce one of the most dominant Major wins at the 2011 US Open at Congressional. He also writes betting previews and still feels strangely proud of backing Danny Willett when he won the Masters in 2016 - Willett also praised his putting stroke during a media event before the Open at Hoylake. Favourite interviews he's conducted have been with McIlroy, Paul McGinley, Thomas Bjorn, Rickie Fowler and the enigma that is Victor Dubuisson. A big fan of watching any golf from any tour, sadly he spends more time writing about golf than playing these days with two young children, and as a big fair weather golfer claims playing in shorts is worth at least five shots. Being from Liverpool he loves the likes of Hoylake, Birkdale and the stretch of tracks along England's Golf Coast, but would say his favourite courses played are Kingsbarns and Portrush.