'A Bad Decision' - Jordan Spieth Admits Pebble Beach Cliff Shot Wasn't Worth The Risk
Jordan Spieth admits he wouldn't take on dangerous cliff edge shot at Pebble Beach again after infamous effort last year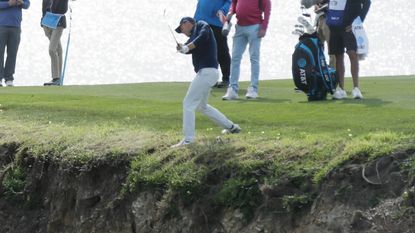 (Image credit: Getty Images)
Jordan Spieth admitted he would not play his now infamous shot from the cliff edge at Pebble Beach again this year – with course officials having to make adjustments to that area to prevent regular golfers from attempting to replicate Spieth's effort from last year.
Spieth almost hit his ball off the cliff on the par-four eighth hole at Pebble Beach in last year's AT&T Pro-Am, before almost going off the cliff himself when he controversially opted to fire a shot right over to the green with his left foot worryingly close to the edge.
Spieth ignored the pleas of his caddie Michael Greller to step away from the edge and take a penalty drop and instead hammered a seven iron over to the green – immediately having to jump backwards to avoid disaster from striking if he went off balance.
It saved a shot as Spieth, being Spieth, made a very Spieth-like par, but having been back to that spot 12 months later, and with now full knowledge of what might have happened, Spieth admitted he would not make the same decision now.
"This is downright terrifying right now." This shot from Jordan Spieth was quite the situation. 😬 pic.twitter.com/sq04R96GXQFebruary 5, 2022
See more
"I think I saved a stroke. Does the reward outweigh the risk? Not if you think the risk was dying," Spieth said ahead of the tournament this year.
"But I also, I felt I could whack it over the water with a seven-iron and get it up near the green. And, yeah, I think now knowing my son a lot better, he was really young at the time, I may not have hit that shot.
"Yeah, it's not advised. I'm glad I ended up making a four. Because if I made a five it would have been one of the worse decisions I ever made. Instead it was just a bad decision."
Bad decisions are what amateur golfers do best most of the time, and plenty have been taking a look at 'that' spot on the eighth and some even trying to replicate Spieth's dangerous shot – leading to Pebble Beach to altering that area.
The PGA Tour's chief referee Gary Young the told ESPN that Pebble Beach had been forced to move the painted red hazard line further back than usual to make sure the rough was thick enough to stop golf balls ending up where Spieth's did – and tempting amateurs to take on the shot.
"We painted the line where we traditionally have it," Young said. "I know that as a club, they make a concerted effort to try to move that line further away.
"Resort play, that's been their concern, and they just want to make sure that they're doing everything that they can to discourage people from attempting that shot."
Spieth added that he'd noticed the rough had been grown in that area, but admitted that there was no easy fix to try and stop players emulating his now infamous cliff-hanging shot.
"I played on Monday," said Spieth. "It's grown up, up by the edge there. Which would make a ball not go as far. But it also stops the balls that may have gone through before.
"So there's no win here. I think I really messed things up by hitting that because I don't really know the solution. Other than shave it all the way so that, no matter what, it goes right in and it has less of a chance of stopping short. I don't really know. Because you can't put a fence there because your second shot will hit the fence.
"It's up. It's up pretty high. The rest of the course, there's not a whole lot of rough. It's almost like you got to play sideways out of it in certain places which should stop this anybody from trying it."
Paul Higham is a sports journalist with over 20 years of experience in covering most major sporting events for both Sky Sports and BBC Sport. He is currently freelance and covers the golf majors on the BBC Sport website. Highlights over the years include covering that epic Monday finish in the Ryder Cup at Celtic Manor and watching Rory McIlroy produce one of the most dominant Major wins at the 2011 US Open at Congressional. He also writes betting previews and still feels strangely proud of backing Danny Willett when he won the Masters in 2016 - Willett also praised his putting stroke during a media event before the Open at Hoylake. Favourite interviews he's conducted have been with McIlroy, Paul McGinley, Thomas Bjorn, Rickie Fowler and the enigma that is Victor Dubuisson. A big fan of watching any golf from any tour, sadly he spends more time writing about golf than playing these days with two young children, and as a big fair weather golfer claims playing in shorts is worth at least five shots. Being from Liverpool he loves the likes of Hoylake, Birkdale and the stretch of tracks along England's Golf Coast, but would say his favourite courses played are Kingsbarns and Portrush.