Robert Allenby sacks caddie mid round
Fan takes over caddying duties when caddy departs after nine holes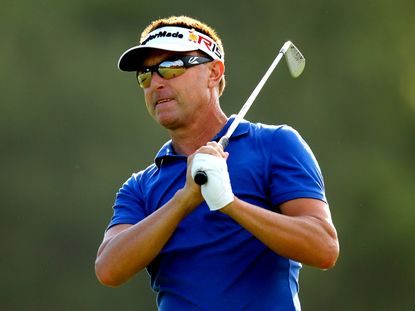 (Image credit: Getty Images)
Fan takes over caddying duties when caddie departs after nine holes
Robert Allenby sacks caddie mid round
It is the stuff of many a young schoolboy's dream. You know the chap, the one who takes along his boots every time he goes to watch his team just in case they end up a man short.
Well this dream didn't happen to a schoolboy, but to Tom Fraser, a 61-year-old school principal from Ontario, who took over as caddie for Robert Allenby in the middle of his first round of the RBC Canadian Open.
Robert Allenby had just sacked his caddie mid round, after a heated argument and Fraser, who was there as a spectator, called out to Allenby that if he needed a caddie, he would take over. Allenby took him up on his offer.
The disagreement had come after Allenby, who had started on the 10th, was faced with a 150-yard approach on the 13th to a green with a creek in front - he wanted to hit a 7-iron. His caddie, Mick Middlemo, new on his bag this year, reckoned it was only a 8-iron.
Allenby hit a 8-iron and the ball ended in the creek.
What happened next was a row between player and caddie. The ill feeling between the two simmered for the rest of the front nine, before it flared up again after the 18th - mid round - and Alllenby sacked his caddie.
"He just lost the plot at me," Allenby later told SCORE.com. "I said to him, 'You know this happens every week. We keep making bad mistakes and you're not helping me in these circumstances'."
"He got right in my face as if he wanted to just beat me up. We never spoke for the rest of the (first nine) and when we got to 18 we walked off and he said some smart-ass remark to me and I said, 'You don't deserve to be caddying out there.' And he just got right in my face and threatened me so I said, 'Go.' So he left."
Robert Allenby asked for a security escort from the course after his round. "This is the worst incident I've ever witnessed as a player. I've never been threatened and as he walked away he said, 'I'll be waiting for you in the car park'."
His caddie later gave a radio interview in which he gave his version of the events, saying that that "There was never going to be any violence... I was just going to put the bag down, get my gear and leave" and that Allenby called him a "fat so and so" repeatedly.
Mr Fraser found the Tour bag "A little bit heavier than mine. I figured out the double-strap with two holes to go!"
"I just said, 'Hey Robert, just tell me what to do, where to stand (opens in new tab),' and he was really good about it and the other caddies were helpful about where to place the bag and where to stand and how to stay out of the sightlines and stuff like that."
Allenby praised his new caddie: "He did a great job. He did everything he was told. He was a nice guy. I'm really thankful that he helped me out."
Allenby birdied the first hole with Fraser on his bag, but having carded a front nine 43, he signed for an 81.
Allenby's game is in a slump at present and this is not the first time this season that he has made headlines for the wrong reasons. (opens in new tab)
Nor is it the first time that Allenby has lost a caddie mid round. At the 2007 BMW Open Matthew "Bussy" Tritton dumped the bag near the 7th tee, removed his bib and walked off.
"It's not the first time and it won't be the last time," quipped Allenby at the time.
He was not wrong.
Contributing Writer Golf courses and travel are Roderick's particular interests and he was contributing editor for the first few years of the Golf Monthly Travel Supplement. He writes travel articles and general features for the magazine, travel supplement and website. He also compiles the magazine's crossword. He is a member of Trevose Golf & Country Club and has played golf in around two dozen countries. Cricket is his other main sporting love. He is the author of five books, four of which are still in print: The Novel Life of PG Wodehouse; The Don: Beyond Boundaries; Wally Hammond: Gentleman & Player and England's Greatest Post-War All Rounder.