Back to back Open wins for Padraig Harrington
Bill Elliott celebrates Padraig Harrington's sensational second successive Open Championship win after four days of the most intense drama at Royal Birkdale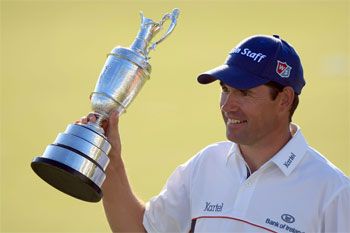 Framed against an impossibly blue sky, embraced by a loving Lancashire crowd, Padraig Harrington took possession again of the old claret jug, his grin splitting that impossibly jaunty face of his.
After a fourth day of high wind and often higher drama it was the Irishman 's ability to control both nerves and ball that took him to this second successive victory.
A year ago he was reduced to a nervous wreck by what happened at Carnoustie but here in Southport what had started out as a challenge ended in the gentlest of victory strolls, Harrington rolling home down the eighteenth like a sailor returned from the calmest of seas. This safe passage at the end of the most wound-up Open I've ever watched was entirely due to his brilliance over the last six holes.
Two birdies and an impossibly sensational eagle lifted the defending champion to his own Cloud Nine and so he could float home towards the Birkdale club's art deco clubhouse the very happiest of very happy bunnies. "It's just fantastic, " he squeaked in that high-pitched Dublin voice of his. "Just fantastic." And it was too. His winning score of 283, three over par, a terrific reflection of the quality of his golf after four of the most brutal days any golfer might imagine.
Beside him across these ancient links during this final round was the unlikely, but impressive, figure of Greg Norman. The old warrior is 53 now and only played at this Open to warm up for the Senior British Open that starts at Troon in a few days time. Oh, and he may have wished to impress his new bride, the former Miss Chrissie Evert of some Wimbledon fame.
Whatever his motivation, Norman helped lift this championship from the merely wonderful to the simply sensational. In the end there was little drama but then I'm not sure I could have taken much more drama after what had passed before our startled eyes over the rest of the four days in Lancashire.
So congratulations to the new/old champ and congratulations too to Ian Poulter who proved that real golfers can wear pink even if I'm not sure this is a good thing to prove and to young amateur Chris Wood. I knew nothing about Chris prior to this Open but I know a lot now and I like it. He says he intends to turn pro next year after the Walker Cup and we should all look forward to his arrival on, for me anyway, more familiar European Tour ground.
That's for then. For now, let us all salute Padraig. Those flipping ladybirds are in for a battering again...
Bill has been part of the Golf Monthly woodwork for many years. A very respected Golf Journalist he has attended over 40 Open Championships. Bill was the Observer's golf correspondent. He spent 26 years as a sports writer for Express Newspapers and is a former Magazine Sportswriter of the Year. After 40 years on 'Fleet Street' starting with the Daily Express and finishing on The Observer and Guardian in 2010. Now semi-retired but still Editor at Large of Golf Monthly Magazine and regular broadcaster for BBC and Sky. Author of several golf-related books and a former chairman of the Association of Golf Writers. Experienced after dinner speaker.