St Andrews Golf Company Opens Honma Golf Showroom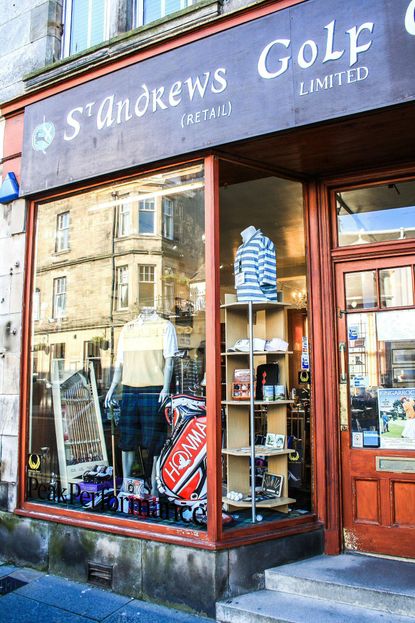 The Japanese golf club manufacturing company has expanded to the Home of Golf.
The St Andrews Golf Company opened a Honma showroom at their store in St Andrews Wednesday, featuring a full range of Honma equipment and a custom fit and assembly service.
The new showroom displays Honma's new S-03 range of woods and irons, the Tour World series of clubs and various Honma bags, putters and wedges. Nearby its store, the St Andrews Golf Company will offer a complete Honma custom fit assembly service, located at its Largoward facility.
St Andrews Golf Company CEO, Ewan Glen, said that Honma's history and precise hand-crafted manufacturing led to the new partnership. "We have both been around a very long time," Glen said. "Just like Honma, our experts hand-craft golf equipment to exacting standards to ensure that our customers walk away with the absolute best that money can buy."
Honma's UK distributor, Vincent Thibault, is excited to have Honma's products featured in such a historic and well-known location. "Ewan and his team at St Andrews Golf Company are highly impressive, and are world class when it comes to dealing with golfers who demand the very best," Thibault said.
"Our new Honma showroom is in the perfect location, and we anticipate great interest in our ultra-high-performance Honma equipment from golfers from all parts of the world, when they make their pilgrimage to St Andrews."
Established over 50 years ago, Honma prides itself on a meticulous approach to manufacturing their high-end clubs, in which at least 100 craftsmen handle each club manufactured.
Honma's standard drivers start at £910, and sets of irons are available from £1,275. Wedges are available from £225, with utility clubs from £375, fairway woods from £505 and putters from £325.
Additionally, Honma features its "Star grading system", allowing golfers to choose their ideal grade of carbon graphite shaft, along with other customization options such as choosing head colour or adding 24 Karat gold and PT1000 platinum detailing and weights. 5-Star drivers and fairway woods are £5,095 per club, and a set of six 5-star irons starts at £26,995.
The Honma showroom at St Andrews Golf Company is located at 8 Golf Place, St Andrews, Fife KY16 9JA, Scotland. Visit the website at www.standrewsgolfco.com or call +44 (0)1334 840860.
Mike Smith is an American undergraduate student studying journalism and political science at the University of Wisconsin-Madison. He is spending the summer living in London, studying British life and culture and working for Golf Monthly. He is excited to gain international working experience, as his career goal is to work in sports journalism.