Ecco signs Tour winner Na Yeon Choi
Choi wore the BIOM Hybrid model on her way to victory at last week's LPGA Tour event in Florida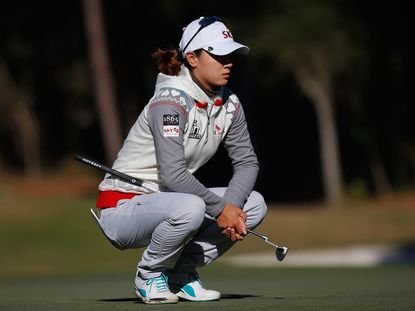 (Image credit: Getty)
Choi wore the award-winning BIOM Hybrid model whilst striding down the fairways on her way to victory at last week's LPGA Tour event in Florida
Ecco signs Tour winner Na Yeon Choi
Ecco, the Danish company and manufacturer of premium, innovative footwear has announced the signing of recent LPGA Tour winner Na Yeon Choi.
The South Korean joins an illustrious list of Ecco Ambassadors, most notably Ernie Els, Graeme McDowell, Thomas Bjørn and Fred Couples.
Choi, known affectionately as 'NYC', wore the award-winning BIOM Hybrid model whilst striding down the fairways on her way to victory at last week's LPGA Tour event in Florida.
She will also showcase the new BIOM Hybrid 2 golf shoe featuring a dual-density TPU outsole which Ecco say is harder in areas which need the most stability and softer in key comfort zones.
Jesper Thuen, Ecco Golf Lab's Sponsorship, PR & Event Manager says Na Yeon is 'admired globally for her engaging personality, outstanding style and exceptional talent'. He added, 'she's also an icon in Korea, which is among the largest and most important markets for ECCO Golf'.
Choi, who turned professional in 2004, has won seven KLPGA titles including two co-sanctioned LPGA Tour events. She has also represented her country during the 2014 International Crown and Asia at the 2008 Lexus Cup.
Her victory at last week's event marked the eighth time Choi has prevailed on the LPGA Tour. Now ranked 12th on the Rolex Ranking, the 27-year old is among S.Korea's most popular sports stars. In 2012 she won the U.S Women's Open Championship and, in 2010, Choi's performances led to her collecting the Vare Trophy for the lowest scoring average on Tour.
The family-owned Ecco company is notable for managing every step of the shoemaking process from material production to sales through its stores.
You can read all about the Ecco BIOM Hybrid 2 and BIOM G2 shoes online and in the February edition of Golf Monthly magazine.
A politics graduate, ex-musician and European football guru, but most passionate about all things golf, in particular golf course design, equipment, growing the game and his beloved Hollinwell.