Why Zach Johnson was not penalised at The Open
An insight into the incident on the 18th green at The 2015 Open Championship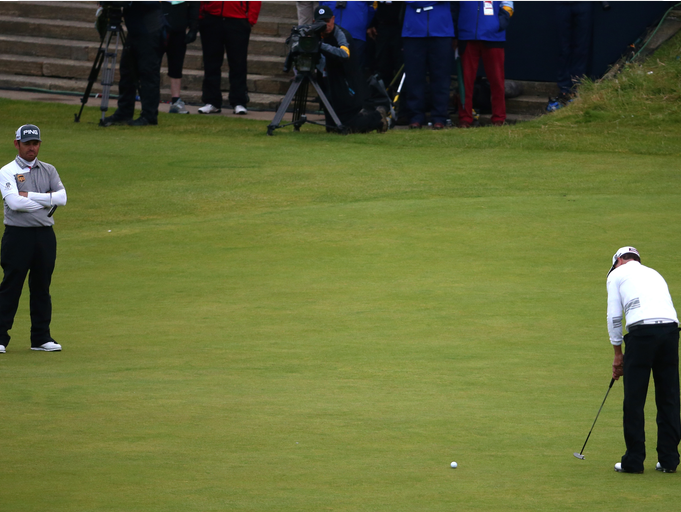 Everyone saw Zach Johnson tap down his line on the 18th green, but while some have queried his actions, The R&A was perfectly happy with what he did...
Zach Johnson may have secured a fine Open victory at St Andrews but some viewers were concerned about the sight of him tapping down something on his line on the 18th green in the play-off.
Both the Golf Monthly Inbox - and indeed The R&A's - were busy in the days after the event with queries from readers and golfers asking why Johnson was not penalised for what he did on the 18th green.
Watch our putting green 'do's and don'ts' video below...
Golf's governing body, it seems, received sufficient queries to warrant it publishing an article on its website explaining what happened...
"Initially Johnson was not sure if the damage on his line of putt was an old hole plug so he called the referee to seek clarification. With the referee's assistance (who asked for a second opinion), it was established that it was the remnants of an old hole plug and Johnson was permitted to repair it under Rule 16-1c.
"In addition to this, Johnson repaired some damage closer to the hole which, further to video review, proved to be a ball mark. The Rules allow a player to repair ball marks (Rule 16-1c) and in doing so, the line of putt may be touched (Rule 16-1a)."
It seems that many viewers and readers had either put two and two together and made five, or in some instances, were unaware of exactly what can and can't be touched and repaired on the line of your putt.
While spike marks are a definite no-no, pitchmarks and old hole plugs are absolutely fine, and The R&A has confirmed that it was these that Johnson was attending to.
You can read The R&A's full Zach Johnson response here. Some of those who queried his actions commented on the fact that he appeared to be tapping down on his line without doing any other repair work (with a pitchmark repairer or tee), and without calling in his fellow competitors for clarification. But again, there is nothing untoward here as The R&A article goes on to explain...
"In repairing ball marks and/or old hole plugs, the restoration of the surface may include raising the turf (with a tee or pitch mark repairer) and then levelling off the ground with the putter. In Johnson's case, all that was required was to simply tap down the uneven ground with the putter head.
"There is no requirement under the Rules to inform or consult with another player or referee before repairing such damage. However, it is advisable to do so if there are any doubts over the status of the damage."
Given that Johnson had consulted with officials at length, and that two top R&A Rules men were close at hand, it seems that he went about everything in the right manner despite what others may have read into it.
Our over-riding conclusion having watched the BBC coverage again and read The R&A's response is: "Step away from the 18th green at St Andrews; nothing to see here folks, nothing to see."