What Is A Supplementary Score?
Supplementary scores could help you to establish and retain a handicap more representative of your current playing ability.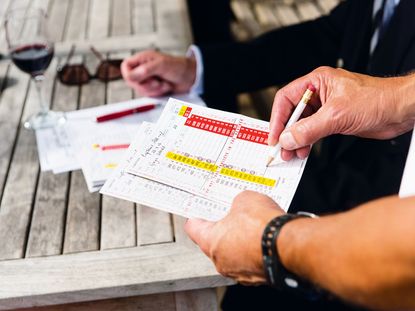 Supplementary scores could help you to establish and retain a handicap more representative of your current playing ability. Here, we explain how...
What Is A Supplementary Score?
The purpose and objective of The Council of National Golf Unions (CONGU's) Unified Handicapping System (UHS) is to enable golfers of varying abilities to compete on a level.
In order for this to happen most effectively, each golfer should possess a handicap as reflective of their current playing ability as possible.
Related: How do I get a handicap?
The more handicap-counting rounds an individual completes each year, the more representative his or her handicap will be.
But even though most clubs now organise a significant number of competitions – more than in decades gone by when the monthly medal was about as far as it went – some members are still unable to play sufficient competitive rounds for their handicap to fully reflect their standard of play.
Clause 21 in CONGU's UHS for 2016-2018 provides a way to address this.
The clause pertains to supplementary scores, and it allows (most) players to submit scores for handicap purposes outside of designated club competitions.
This gives members more flexibility to display their current playing ability. Supplementary scores can be submitted at any CONGU-affiliated club at which the individual is a member.
Before going out to play a round from which he or she would like to submit a supplementary score, a player must inform the club of their intention to do so.
Related: How are handicaps adjusted?
Generally, this will simply mean letting either the secretary or the professional know, and the intention will be recorded.
The player will then complete 18 holes (or even nine, which we'll come on to later) in competition-play conditions, in either stroke play or Stableford format, returning the completed card as a supplementary score.
Continues below
Expand England Golf To Crack Down On Bandits
England Golf To Crack Down On Bandits
England Golf have introduced a new handicap rule…
Expand Golf's 90% handicap allowance and more… a ready reckoner
Golf's 90% handicap allowance and more… a ready reckoner
From 1st January 2016, CONGU switched to a…
Expand Golf SSS And CSS Explained
SSS & CSS confuse many golfers. Here's a…
No Competition Scratch Score (CSS) will be calculated, so the supplementary score will be measured against the course's Standard Scratch Score (SSS).
If the net, or net equivalent, total returned is below SSS, handicap will be decreased accordingly.
If above the player's buffer zone over SSS (see table), or if an NR, or no score at all, is returned, then the individual's handicap will be increased by 0.1.
Related: Is Competition Scratch Score (CSS) fair?
Supplementary scores are principally intended to assist players who are either unable or unwilling to play in competitions to maintain an accurate handicap.
They can also help to provide more evidence of playing ability for golfers of varying levels.
If a player feels his or her handicap is too low, preventing them from being competitive in club competitions, the submission of supplementary scores could help address the problem.
Related: What is clause 23 all about?
Each return above buffer zone would see handicap rise by 0.1. If consistently above the buffer zone, the returns would also provide evidence for a possible review of handicap.
However, if a player feels their handicap is too high and they want further opportunities to obtain a reduction outside of designated competitions, supplementary scores afford them the chance. There are certain conditions that apply, though.
Firstly, let's look at category 1 players (with handicaps between plus and 5.4). In England, Wales and Ireland, these players can only return supplementary scores between September 1 and December 31 in order to meet the minimum requirement of qualifying scores for the year.
Related: Proposed changes to the rules of golf from 2019
Category 1 players can then return a maximum of three supplementary scores in the last four months of the year, and only if they have played no other counting rounds during the first eight months.
In Scotland, things are a little different. The Scottish Golf Union has taken up the permitted CONGU discretion to allow category 1 players with handicaps between 2.5 and 5.4 to submit up to ten supplementary scores within a calendar year, over and above counting competitive rounds.
Players with handicaps in categories 2 to 4 (2 to 5 for women) may all return a maximum of ten supplementary scores in a calendar year.
Unless the club permits, no more than one supplementary score should be submitted per week.
There have been some changes regarding supplementary scores for the 2016-18 edition of CONGU'S UHS...
– For players with handicaps in category 2 and above, supplementary scores in Stableford format over nine holes are now accepted.
– Players can now submit supplementary scores at all affiliated GB&I clubs at which they are a member, not just their home club. This is to further increase flexibility, enabling more players to maintain reflective handicaps.
– Players with a Club Handicap between 28 and 54 for men, and 36 and 54 for women, can submit an unlimited number of supplementary scores over the calendar year.
The supplementary score system can be of use to numerous players who feel they would like to provide more information to ensure their handicap is representative.
Those unable to play sufficient competitions through the year can make sure they meet the minimum of three qualifying scores annually by submitting supplementary scores.
In addition, those who feel their handicap is either too high or too low can use the system as a way to potentially affect a change.
The leading website from the world's oldest golf magazine, we're the go-to destination for amateur and keen golfers alike who are keen to up their golfing game. As well as expert course reviews, news and tips to improve your handicap our golf-focused travel content will help you pair teeing off with your travels in some of the best destinations around the globe.