Remembering Christy O'Connor Jnr
Back in 2009 Jeremy Ellwood spoke to Christy O'Connor Jnr about his career and passion for course design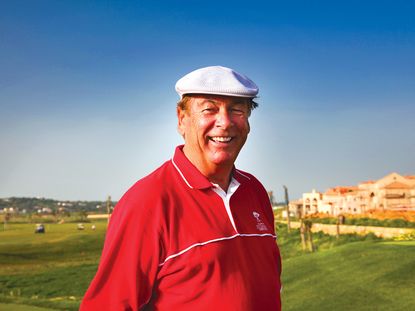 Get the Golf Monthly Newsletter
Thank you for signing up to Golf Monthly. You will receive a verification email shortly.
There was a problem. Please refresh the page and try again.
The sad passing of Christy O'Connor Jnr brought back many memories of a hugely popular man. Back in 2009, Jeremy Ellwood spoke to the Irishman about his career, his uncle and a passion for course design that could be traced back to his family's roots
I breathe an inner sigh of relief as Christy O'Connor Jnr answers my first question about his famous golfing uncle's influence. "If you arrived on the 1st tee with dirty shoes, he'd go berserk," he tells me. "He'd say, 'if your clubs are not clean and your shoes are not clean, you're not going to play good golf. That's a huge start you can have over the next guy.'" Hours earlier, I'd made a last-minute decision to swap the muddy shoes I'd originally packed for a clean pair. O'Connor could have been one up on me straightaway in our afternoon game just by looking at my feet.
"He probably was the greatest psychologist I've ever met from no schooling," O'Connor elaborates. "And I mean literally no schooling. I've never met a guy who was so positive, so real in the things he'd say to you." Despite that, O'Connor Senior never managed to win the Major his talent deserved, but his nephew is keen to point out a contributing factor. "He came very close and won just about everything else," he explains. "But in his time, and not making excuses for him, it was much more difficult. Going to America was a huge thing so you really only had one chance at a Major."
O'Connor Junior came close too, most notably in the 1985 Open. "I probably had three really good chances in the Open," he says, "and 1985 was totally my own fault. It was just bad putting in that final round. Thirty seven putts on the last day of an Open is very poor. I hit it into seven or eight feet probably two-thirds of the time and never made one. I suppose there was the pressure of it being a Major and so on." I ask if deep down he felt he had the game to win one. "I felt I had the guts," he replies. "I seemed to be able to produce the shots at the time, and get through the run-in on the last nine holes pretty well. I don't think I ever threw a tournament. But it just didn't happen." What he doesn't tell me is that he too never played a Major in America, teeing it up in just 21 Opens over his 35-year playing career.
There have been many playing highlights, most memorably the 1989 Ryder Cup, and such is the frequency with which he has been asked about 'that 2-iron' that he's already talking about it in answer to my question about career highs before I get the chance to add "... other than that 1989 Ryder Cup." It's not that I don't want to know, rather that given its status in golfing folklore, I'm more interested in other highlights. But he does remind me that just prior to his career-defining moment, my own brood had cruelly written him off. "We were told not to read the press," O'Connor reflects, "but that morning when I came down I couldn't help it. It was there in the breakfast room: 'O'Connor weak link of European Team'. My wife just turned the paper upside down. I don't know how one of our own press could write that. But those things happen. You have to accept them. And I got a wonderful letter [of apology] – in actual fact, six letters from six press men – every one of them impeccably written. So you accept it – it's life, that's what history books are written about."
Other great memories
I let O'Connor finish on the 1989 Ryder Cup before coming back to my intended theme, and I'm glad I do, for the other highlight he picks is probably what I best remember him for – the final nine of the 1992 British Masters at Woburn when he holed a ridiculous series of putts to wrest the title from an in-form Tony Johnstone. "I suppose that win, and the way I did it is one of my best memories," he says. "We had to play two rounds on the last day and I shot 66 in both." And of those putts, including the monster one on 18 that fell in on the edge to make the play-off: "Every time I birdied I saw Tony Johnstone, who had won the PGA the week before, had birdied behind me. So for me to birdie 16, 17, 18 and then the first play-off hole… but you had to. Nobody was going to win unless they did." He also fondly remembers Johnstone's kind words to him afterwards, given that O'Connor's unfeasibly hot putter had just denied the Zimbabwean the trophy. "I never saw a man so happy for somebody in my whole life," he recalls. "He whispered in my ear: 'I'm so happy that you won.' I couldn't believe it. It just shows you the quality of the man – he really meant it. At that time he was on fire – every part of his game. They were calling him 'Arrow'. He didn't know what it was like to miss a fairway, and I didn't know what it was like to hit one."
O'Connor is 60 now, and the playing career has come to an end, though I'm surprised to learn his last official tour event was as long ago as the 2005 Senior British Open. He now fills the time he used to spend playing for a living, designing courses for a living. His portfolio across Ireland and Europe continues to grow, and as we chat on a balcony overlooking his latest pride and joy at Oceânico's Amendoeira on the Algarve, it's obvious he has successfully rechannelled his passion for the game down this new creative avenue.
"I love it. I live for it," he enthuses. "Coming from a farming background, the smell of soil really turns me on. Most of my brothers would run a mile because we worked as kids on the farm. But when that soil is turned I love it." I struggle to transcribe the interview from here as the more animated he gets, the faster the words flow. It's as if his brain is working too fast for his lips to process. "When you see the golf course coming out of the ground bit by bit like a baby being born, and see the hole happening in front of your eyes, it's great fun," he continues. "You've got to be so careful as you can use someone's money very wrongly," he concedes. "But generally it's wonderful. And if you get the owners involved… I remember going out here with owners Simon Burgess and Gerry Fagan and them saying to me, 'my God, what are you doing here?' and me saying to them, 'don't worry, don't worry!'" So would he ever turn a commission down? "I have done and saved people a lot of money," he quickly replies. "And sometimes they haven't been so kind to me with their words. But there's no point – it's a lot of money to spend if you just can't see a way."
The two courses at Amendoeira are very different, but O'Connor is happy he got the flatter ground, leaving Nick Faldo to head up into the hills. I ask him just where you start when designing a course. "The land's going to tell you what to do," he tells me. "If you listen to the site, it will take you round. It's amazing, but I find that if you walk it three times, you always end up with 'this is my 18th green; that's my 9th tee'. But it won't happen on the first walk."
Portuguese tour events may come calling one day, and it must be hard to create a layout that is playable yet challenging. O'Connor feels it's an achievable balance. "I'd always have 15-18 handicappers in mind when starting out," he tells me, "because they're going to be the majority of your play. You're going to have one tournament a year if you're lucky, so you can't build a golf course just for that. But you have to be able to accommodate one if you get it. Here I would be able to do that via length [the course can stretch to 7,400 yards] and pin positions. It's important to have four really tough pins on every green in case you need them. I was given the opportunity to build big greens here, so I think I have plenty."
O'Connor shies away from naming signature holes, but feels the run from six to nine and 14 to 18 warrant special mention. "If you finish par for the last five you've done rather well," he says. Needless to say, I fail to do that. He also tries to avoid trademark features. "I try not to do that," he says. "It's a goal for me if I can get round and somebody says: 'This is not an O'Connor course.'"
Some might feel the role of the course designer has become a little overplayed in modern times, but O'Connor is mortified by the idea. "Oh, God, no," he says. "There should be a huge difference between going down the right or left side of a fairway, for instance. One can lead to birdie and one to bogey, just because from one side you might have to come in over the narrow side of the green or different mounds. You might have trouble on one side and a bail-out on the other, and where your trouble is, that should be an easier way to play the hole. Your bail-out should be longer, coming in from a more difficult angle."
He's also renowned for a hands-on approach. "I'll have done 50 visits here, maybe more," he says. "I'd always do 30. Most would do four or five, then their 'teams' would arrive. Even though a machine moves very slowly, it moves huge bulk and a hole can have changed just like that." He slaps the table. The implication is that if he's not around to keep an eye on things, the end result might not be quite as planned. His course proves a pleasure to play, with a variety that belies its flatness, something of which O'Connor is proud. "It's a lot of fun even though it's very flat," he tells me. When you walk onto the 9th green, it's a totally different view. "When you get out onto the 14th green, it's a completely different view again. I think that's lovely. To be on a golf course and see the same thing from the 1st to the 18th must be as boring as hell."
Finally, I ask if course design really can compare to the thick of the Sunday action in a tour event. "I'd like to think so," he says at first. "It's certainly a wonderful feeling on the 1st tee the day you open a course. The day I stood on the 1st tee here I shook more than in the Ryder Cup. But I'm going to have to go for a tournament win in front of the crowds. When I won the Irish Open, my God, there were 50,000 people stampeding down the 18th and I thought I was going to be crushed. Winning a golf tournament – wow! But course design is a very close next best thing."
Get the Golf Monthly Newsletter
Tips on how to play better, latest equipment reviews, interviews with the biggest names and more.
David joined Golf Monthly in 2015 as a content editor for the magazine and regularly contributes to the website. He has worked in magazine publishing and editing since 2003. He is a keen golfer and up until recently was a member of Blackmoor Golf Club in Hampshire. He has covered various big events and tournaments for GM, the highlight of which was witnessing Tiger Woods win his 15th Major at Augusta in 2019. Email: david.taylor@futurenet.com