How To Keep Your Golf Expectations In Check
Katie Dawkins explores what players expect from their golf games and whether these expectations are often a step too high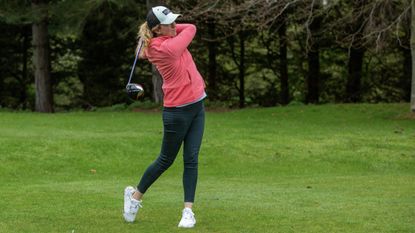 (Image credit: Howard Boylan)
The majority of players know there is a better golfer hiding inside. Everyone has hit it well on the range or had that glowing few holes where everything went pretty well. Seeing a glimmer of the golfer you could be is usually enough for you to expect to magically become that player. But unless Hermione Grainger is a regular in your fourball, improvement is unlikely to happen.
Frustrations build when the golf of your dreams turns into the golf of nightmares. Cue the angry face and sense of failure. Is expectation really the culprit when it comes to playing bad golf? Do we expect too much from ourselves, our scores and the distance we hit the ball?
This is where I'd step in and ask an important question.
How Much Do You Practice?
I asked this recently in a mind games talk for a group of female golfers. Everyone agreed they could all play better golf, but when asked, "How many of you practice?" only a handful put their hands up. It's no wonder people hit a wall with their golf when they never actually work on their games. Practice doesn't need to take ages. Check out some incredible tips to practice in 30minutes effectively from Rick Shiels
Own Your Outcome
You're in charge of whether or not you improve. Sorry to say, the lass from Hogwarts isn't going to help you. So firstly take responsibility for your game. I'd recommend journaling, or at least putting pen to paper and taking a moment to really write down what you want from your golf.
First step is to write down WHY you play. Once you have a few reasons, work out HOW you can improve those areas.
If you've written ENJOYMENT down, yet all you play in is medals, then it's worth injecting a few fun rounds into your golfing week.
If you've written COMPETITION down, then it's worth investing in a few lessons to pinpoint where your game needs help. Perhaps you're expecting great things from your golf yet have never been custom fit for kit, or you're using clubs that have been around the block a few times. The new tech will really improve your golf you just have to invest in it.
If you've written SOCIAL LIFE on your list, take a look at the golf you are playing. Think about the people you enjoy playing with the most. Write them down, then call them to sort a few fun holes or maybe a visit to another course. Spend time with people who give you positive energy. You can control this.
At the end of the day you hold the reins with much of the golf you play. Where you play, when you play, who you play with. You don't HAVE to play in anything you don't enjoy. So often the women I teach put themselves into everything and actually this sometimes harms their confidence and their enjoyment levels take a nosedive.
In golf and in life we often lose sight of ownership. Own the responsibility to change the way you approach the game and you'll see yourself in a happier place.
On Repeat

If you constantly tell the horror stories about your golf or say, "I'm rubbish at putting" on a loop, you'll start to believe it. This works the other way…. always tell people a positive element of your golf. Try hard to keep the moans and groans at bay. You'll start to trust yourself more. If you have a club you hate in your bag, use it more. You'll hate it forever if you don't see yourself hit a good shot with it. So pull it out of the bag with a smile and give it a whirl. This brings me on to my next point…
Practice In The Correct Environment
If you do indeed practice but aren't seeing an improvement there is a reason. If pounding balls on the range is your "practice" you may need to think about how effective this approach is. There's a place for range practice - see our guide to taking your range game to the course - but you also need to spend some time on the course without a scorecard.
Simply practicing the situations you struggle with, or perhaps holes you hate (I call them my demon holes) will help you fear them less when the pressure is on.
You need to SEE yourself succeed on the course to really believe you can do it. This is so important and that positive reinforcement where it matters can truly revolutionise your golf. I would highly recommend a playing lesson with your professional. This is your opportunity to be made accountable for each shot and it will train you how to do this on your own. Having a few goes from trouble spots will boost your confidence no end.
How Physically Capable Are You?

Let's face it, the guys and girls on tour are athletes, made from elasticated awesomeness. Which is precisely WHY they can swing the club in a textbook fashion and beyond. Spending hours trying to replicate their positions at the top of your backswing or at impact are in fact wasted if you have the tightest calves or hip flexors known to mankind.
One of the most effective ways of improving yourself from a marginal gains approach, is to lift weights or stretch. Even better, do both. Any improvement in your physical strength, flexibility and stability will lead to you hitting better golf shots.
Strength training is so good for you mentally and physically. Improved fitness means improved thinking too. You will just be BETTER at golf. Here are a few exercises that WILL improve your game.
The Noise Of Life
Golfers have often come to a lesson filled with the frustration of their games and so many times they are brimming over with despair. So often their golf is the last thing they need to worry about. There are always bigger things happening in the background than a missed 3-foot putt. Stress is often very visible in a golfer, especially emotional stress.
I call this the "Noise of Life", those big curve balls that life throws at us and huge events which often come laced with trauma.
HOW do golfers expect to still maintain a steady golf game with all that distraction in their heads and hearts.
When you are having a tough time, set your expectations before you play. What can you realistically expect to get from today? Use the game as a distraction, a healthy way to switch off and zone out for a bit. Golf is an escape.
Great things often happen when you approach a round with this attitude. Whatever is happening in your golf game isn't as important as life… but my goodness it be the tonic we all need sometimes. When life is tough, pick your playing partners well, play the golf you enjoy, be kind to yourself and make sure you get a hug on the last green.
Your expectations can often be the reason you aren't playing the golf of your dreams. It's the little things that matter and often the little changes that make the BIG differences.
So take a moment, sit down and write down what you expect from your game. Then ask yourself whether you are doing the right things to make your golf improve. If no, then make a plan. This is your golf journey, nobody else can do this for you. Own your outcome, make some changes and perhaps you can expect the unexpected.
Advanced PGA Professional and freelance contributor
Katie is an Advanced PGA professional with over 20 years of coaching experience. She helps golfers of every age and ability to be the best versions of themselves. In January 2022 she was named as one of Golf Monthly's Top 50 Coaches.
Katie coaches the individual and uses her vast experience in technique, psychology and golf fitness to fix problems in a logical manner that is effective - she makes golf simple. Katie is now based at the stunning Hamptworth Golf Club on the edge of the New Forest. An experienced club coach, she developed GardenGOLF during lockdown and as well as coaching at Hamptworth she freelances, operating via pop-up clinics and travelling to clients homes to help them use their space to improve.
She has coached tour pros on both LET tour and the Challenge Tour as well as introduced many a beginner to the game.
Katie has been writing instructional content for magazines for 20 years. Her creative approach to writing is fuelled by her sideline as an artist.