'Fewer And Fewer Members Want To Take It On' - The Dying Role Of The Lady Captain
To be Lady Captain was always a real honour, but now it seems more and more clubs are struggling to attract women to the role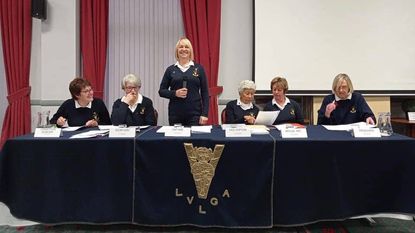 (Image credit: Judith Gorman)
The Lady Captain is part of the tradition at members' clubs. In my book it should be regarded as a real honour to be asked. However, it seems that at many clubs this long-standing institution is slowly dying. I belong to two very different golf clubs, one which has a thriving women's section with over 100 active playing women and consequently almost a waiting list of those willing, able and keen to take on the Lady Captain's role. The other, has only a handful of women and no Lady Captain for a number of years now, simply because no-one was prepared to take on the job.
Let's face it, the word 'job' is literally the best description for this role. It requires dedication and commitment to the club for a year of your life (two if you count the vice-captaincy). It's unpaid, although usually in exchange for free subs, and often not as rewarding as it seems.
Such is the opinion of Morgan Porter, Lady Captain at Lee-on-the-Solent Golf Club in Hampshire who has found her time in office extremely demanding. "I started my captaincy last November and to be honest there have been days when I've thought, what on earth have I done," she explains. "You have to be pretty thick-skinned to do this job. I only agreed to do it because I was a bit tipsy and no-one else would. Despite not being your usual Lady Captain I got voted in unanimously. I turned 50 last year, I'm gay and my wife plays at the same club. Ninety nine per cent of the women are very accepting, but there is always the odd one or two who treat you disrespectfully, don't join in and don't even say hello to you."
According to Porter there are positives and negatives of the role. Highlights include raising money for captain's charity days and trying to put things in place for future generations, to bring the club together so that there is less segregation, progressing it into the 21st century. One such change is moving the women's honours boards from the ladies' locker room to a more prominent position within the clubhouse. "Our new chairman agrees that we should be out on show alongside the men's boards but the old boys brigade is being awkward," she complains. "I've been met with many misogynistic comments about changes I've introduced because they think that I am removing traditions," she adds. "The way I see it is I am making new ones."
Time, or more specifically a lack of it, is a huge hurdle to overcome to convince women they can handle the role. "I'm self-employed and have no time for 'actual' work," jokes Porter. "It's all golf-golf-golf and meeting after meeting." It's a sentiment echoed by Lady Captains across the country.
Laura Jarman is the 2023 Ladies Captain at Bowood PGA Golf Club. She works full time, supplementing her income with a second job as well. She's one of the younger generation of players at her club in her mid-thirties. On paper she was an unlikely candidate for the role, nevertheless she took it on. "It is manageable and I've had support where needed by some of the lovely past Lady Captains too," she insists.
For many women, becoming the Lady Captain of their club is part of a life-long ambition. "I took up golf nine years ago after losing 17 stone," explains Trish O'Neill who is Lady Captain at South Beds. "Over the years I have had many operations but carried on playing golf throughout. I love my golf and love the ladies. I will never be a great golfer but I'm so proud of what I've achieved and to be Lady Captain is truly an honour."
Many clubs are having to resort to asking women who have already captained their ladies' section to repeat the role. In Tracey McCormack's case five times! "We are a very small section at Pitreavie in Scotland and in 2017 we struggled to get someone to take on the role," she explains. "I work and have a family but to save the section from folding I decided to take it on and have been captain right through from May 2017 to the present day. I'll continue to be there for the ladies' section for as long as needed."
Kate Hanley is another woman making a show of solidarity at her club Nazeing in Essex. "I'm just finishing my third stint as Lady Captain as we find fewer and fewer members want to take it on," she explains. "Committees are changing and I hear from other clubs that several don't have captains. They just manage to nominate a 'captain for the day.' I fear that we'll be going that way too, which is such a shame, as it was always a privilege and honour not a chore to be a captain."
It's a similar situation at Midland's club Robin Hood where the women devised a list of all the things that need doing for their section. "We had lots of ladies sign up to help with one thing or another but no-one wanting the leadership," comments Lorraine Baldwin. "Then thankfully at the eleventh hour a lady put herself forward. We are keeping the 'list' and the volunteers for each job and the new Lady Captain will be a figurehead."
Judith Gorman (pictured in title image) has progressed from Lady Captain to Lady President at Cleethorpes Golf Club. She took on the role despite working, because she wanted her late dad, who was her rock, to see her 'drive-in'. "Golf has always been a big part of my family and to know that he was proud of me captaining the club means everything to me," she reminisces.
"The job is all-consuming," insists Jude MacKenzie, who was Lady Captain of Sundridge Park in 2021. "I knew that I wouldn't be able to do it and work as well, so my husband agreed to support me for the year. We have more women available to ask than most clubs yet there have been years when it has been difficult to find someone who would say yes. This is because the role is known to be virtually a full-time job, sometimes with a lot of politics."
Many women are put off by the long list of duties the role requires. Some women simply hate giving speeches, others dread the prospect of having to sit on the club committee or arrange the big social events. If you don't have experience of these things they can seem daunting and off-putting.
Despite the obvious stresses and strains, there are some wonderful stories of women who are prepared to 'do it all' to prevent their club from going without. Debbie Watt is one of them. A single parent with two teenagers who works full-time and is juggling an already busy schedule with the Lady Captain role at Arran Belleisle Ladies Golf Club. "It's been a workout!" she exclaims. "But lots of happy times to go with it. I know that many clubs are struggling to fill this role which is sad to see."
At Sheerness GC, on the Isle of Sheppey, Rae Earl is determined not to let this long-standing club tradition come to an end. She has just finished captaining the club for the third time. "The second time I was joint captain was in 2014 with my best friend, which worked amazingly well as we shared our duties and covered for each other when necessary," she recalls. "Very different from the first-time around, 10 years earlier, when I was working two part-time jobs, three days and two nights a week but thankfully everything went well."
The obvious advantage of being a captain on multiple occasions is that you are not phased by the job and know what it requires. There are other little perks, like having your meal served first at every function and getting first dibs on the tee time booking system to guarantee your name on the start sheet every week that give it the silver lining.
"I'm also Lady Captain for the third time," Lynne Jones tells me. "It has been very difficult finding someone to take on the role at Hollywood GC as we are a very small section. Our alternative was for the ladies committee to step up however, I am a firm believer in 'use it or lose it'. Consequently I have taken on the role again." I've only scratched the surface here and there are stories of heroism like this, to keep the role alive, all around the country.
It's clear that there is an ever-growing problem and long-standing members of clubs are lamenting the loss of this legacy. "I had the best Lady Captain's year anyone could wish for in1998," recalls Susan Wood of Low Laithes GC. "I never would have imagined a day when we would be struggling to get ladies to take on this wonderful opportunity, it's such a shame."

Sadly, this is the reality. One solution could be for clubs to adapt the Lady Captain's role to something more of a 'figurehead' with less duties and responsibilities than the traditional job description. This may make it easier to find willing volunteers - only time will tell. For tradition's sake I certainly hope that struggling clubs find a way to appoint a Lady Captain so that their history doesn't get erased from the women's honours boards for good.
Carly Frost is one of the golf industry's best-known female writers, having worked for golf magazines for over 20 years. As a consistent three-handicapper who plays competitive club golf at Parkstone and the Isle of Purbeck courses in Dorset every week, Carly is well-versed in what lady golfers love. Her passion for golf and skill at writing combine to give her an unbeatable insight into the ladies game.
Carly's role at Golf Monthly is to help deliver thorough and accurate ladies equipment reviews, buying advice and comparisons to help you find exactly what you are looking for. So whether it's the latest driver, set of irons, golf ball, pair of shoes or even an outfit, Carly will help you decide what to buy.
Over the years Carly has been fortunate to play some of the greatest courses in the world. Her view 'from the ladies tee' is invaluable. She ranks Sea Island, Georgia, USA, where she met her husband, world-renowned golf coach Dan Frost, among her favourite golf resorts. Their aptly-named eight-year-old son Hogan is already hitting the ball as far as Mum and will undoubtedly be a name to watch out for in the future.
Carly is a keen competitor and her list of golfing achievements are vast. She is a former winner of the South West of England Ladies Intermediate Championship, a three-time winner of the European Media Masters and she once beat an entire start-sheet of men to the title of Times Corporate World Golf Champion. She has played for both the Dorset and Surrey County Ladies first teams and is known for her excellent track record at matchplay.
Carly holds the ladies course record (68) at her home club Parkstone and her lowest competition round (seven-under-par 65) was carded in the pro-am of the Irish Ladies Open at Killeen Castle, playing alongside Solheim Cup superstar Anna Nordqvist. Although her current handicap index has crept up to 3.7 since Covid she has her sights firmly set on achieving that elusive scratch handicap and hopefully playing for her country when she's 50.
Carly's current What's In The Bag?
Driver: Callaway Epic Max, 10.5°
Fairway wood: TaylorMade SIM2, 15°
Hybrids: Titleist TS2, 19°, 21°, 24°
Irons: Mizuno JPX900, 5-PW
Wedges: Cleveland RTX, 52°, 56° and 58°
Putter: Scotty Cameron Futura X5
Ball: 2021 Callaway Ladies SuperSoft