Golf On The Edge Qualifying School blog
Ross Biddiscombe reports on Qualifying School. As is always the case at this time of year, there is another group of pros not fighting for mountains of cash, but instead fighting for their careers.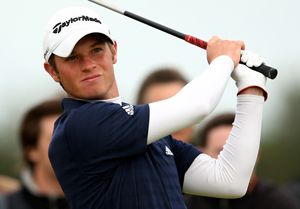 The inaugural Race To Dubai might take this week's European golf headlines, but as is always the case at this time of year, there is another group of pros not fighting for mountains of cash, but instead fighting for their careers.
Philip Archer has been a stalwart of the European Tour for nearly a decade, but he will be playing in Spain this week not the Middle East. Simon Wakefield will be there too. So will Robert Dinwiddie, Iain Pyman, Alan McLean, Johan Skold and a host of familiar names from the main Tour because Friday is the start of the Second Stage of Q-School. All four tournaments at this point in the battle for tour cards take place in Spain and these journeyman players will be among over 300 whose careers are on the line this week. If they fail to progress from one of these Second Stage Q- School tournaments then they will be in golf's limbo-land for at least 12 months. Possibly forever.
Archer and his counterparts would all admit that they've had poor 2009 seasons on Tour. Archer finished 155th in the Race To Dubai, Wakefield 176th and Dinwiddie 146th. All three were well outside the top 115 full-time Tour members who automatically retain a Tour card at the end of each season. But the trio also fell outside the top 145 which is another crucial place on the Money List. End the season inside the top 145 and at least you go direct to Final Stage of Q-School and are guaranteed no worse than Challenge Tour status next year. Finish 146 (poor Dinwiddie) or worse and you are sent to Second Stage. Failure there send you to...well, Nowhere-ville. Maybe the odd invite, more likely EuroPro Tour. Failing at Second Stage is like Newcastle United missing the playoffs of The Championship this season and being relegated to the Conference.
So all the don't-want-to-be-here players like Archer and friends will mix it in Spain with the hungry-for-it young pros who came through First Stage of Q School back in September. That means all the Walker Cup players - Stiggy Hodgson, Wallace Booth, Dale Whinell etc - will be teeing it up with all the confidence of normal twenty-somethings.
They will be joined by the likes of young Sam Hutsby who turned pro this year and led the Castello Masters at one point last month and looks a shoo-in for progress to Final Stage and a Tour card.
However, let no one fool you - the experience of an Archer might be enough at Second Stage; and the youthful exuberance of a Hutsby will also be a key attribute. However, don't count on all these familiar names getting through. More than one will miss out and Second Stage failure has true end-of-Tour-dream ramifications.
So, in a week's time, Rory McIlroy might have more money in his bank than Croesus, but someone like Phil Archer, Simon Wakefield or Robert Dinwiddie will have a broader smile...and only six more rounds until a Tour card!
Ross Biddiscombe's second book about the European Tour Q School - Golf On The Edge 2: Q School Complete - is available at golfontheedge.co.uk
Where next?
Golf Monthly competitions and prizes