Golf Blog: Presidents Cup Confusion
Lewis Pacelli explains in this golf blog what he thinks is wrong about the Presidents Cup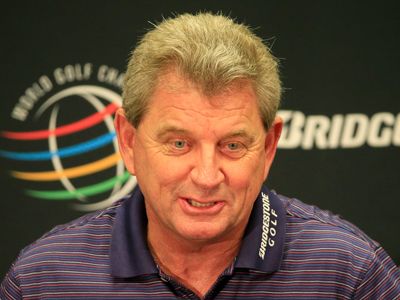 Golf Monthly Newsletter
Golf tips and expert instruction, golf club reviews and the latest golf equipment.
Thank you for signing up to Golf Monthly. You will receive a verification email shortly.
There was a problem. Please refresh the page and try again.
Golf Blog: Presidents Cup Confusion
The teams for this year's Presidents Cup were decided last week and the two captains announced their monotonous individual picks.
Firstly, Freddie Couples had to choose Jordan Spieth.
The 20-year old wonder kid deserved his call up because he has looked arguably more impressive than his esteemed colleagues throughout the year.
Webb Simpson however has left me with slight confusion.
I am aware he is a major champion but he hasn't impressed me on a consistent basis this season.
The last few months he has seemed to plug away without doing anything extraordinary - barring that 64 at the PGA.
In team events, he has never played with anyone else but Bubba Watson who did not make the team, so he will have to get used to a new partner and that could go either way.
Then you look at the US stalwart that is Jim Furyk and you wonder how he didn't get a chance.
His recent form has been scintillating, his putting unbelievable and he has been a regular on many Ryder and Presidents Cup teams.
The fact he won all five of his matches at the 2011 edition of this tournament is another factor and I was stunned he will not be attending.
As for the International team there are only 3 players outside the top 40 in the world compared to 6 in 2011.
Their team does seem stronger on paper, but two people simply shouldn't be there.
The fact that the world rankings dictate the team is a foolish joke because it does not represent recent form and ability, as it should do.
Louis Oosthuizen has been out the game for a couple of months with a neck injury and has had a shocking 6 months form wise.
His place makes the team weaker, as does the nationalistic choice of Brendon De Jonge.
Nick Price is a legend amongst the history of golf but choosing a compatriot who has shown glimmers of form but, like Simpson, not really excelled, could come back to haunt him.
De Jonge is a calm character but two top 10s since March is a poor return.
The likes of 2-time 2013 European Tour winner Brett Rumford and one of the most loved men on tour, Thongchai Jaidee have been overlooked, much to my disgust.
Rumford is a short game guru, whilst Jaidee is a proven match play genius and how they are not representing the rest of the world is completely beyond me.
Until changes are made to how the International team is chosen, mistakes like this will keep happening and the USA will keep taking advantage.
Lets just hope it's a close contest.
Lewis Pacelli writes for Down the 18th "Golf Betting and Opinions from a young perspective" (opens in new tab)
Lewis was a freelance writer for Golf Monthly in 2013.