Pushing it too far
Bill Elliott blogs his views on the rise of golf in Asia and specifically Korea, and wonders whether all those involved are enjoying the game as much as they should be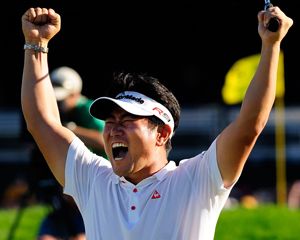 Somewhere there is a kid who is being forced to play more golf than he or she wants. Somewhere there is a confused child trying like hell to please demanding parents. Somewhere this teenager is being abused emotionally and, quite possibly, physically as well. This youngster could be of any ethnic background, but too often he or she will be Asian and, probably, Korean.
Everyone trumpets the explosion of golf in the Far East. Japan has had the bug for years thanks to the post-1945 Americanisation of the old, introspective Imperial state, but over the last decade a virulent form of golf addiction has swept over Korea, while China is also opening up enthusiastically to such a fever.
This is good news for the growth of the game, but not necessarily terrific for some of the individuals caught up in this storm of endeavour. Not long ago, for example, Korea's background music was provided via the tinkling of ivories as parents, desperate to see their kids make money, encouraged the learning of classical piano.
Now, however, the piano has been replaced by a bag of clubs. The same stern demands remain however, and the price that will be paid sooner rather than later by many of these children is too high. Failure to make it in the golf arena may not just be seen as the end of a personal dream, but as a failure to live up to parents' expectations in a society where responsibility to the family is paramount.
Their guilt at failing to make the grade in a game where only a handful ever make it as a success is often a sad, short and bitter step to a life of depression and worse.
The spectacular success of Koreans such as Y.E Yang and 17-year-old Byeong-Hun An in winning the PGA and the US Amateur titles respectively in 2009 deserves sustained applause. The unwanted spin-off from these triumphs, however, is likely to be more demands from parents who believe their kid could be next in line for big-money rewards.
"The Asian work ethic is important to remember," the great coach David Leadbetter tells me. "Asians, and the Koreans in particular, have really taken to golf. They go at golf like a business and it suits their temperament, their mind-set and, of course, that work ethic. It happened first with the girls because they mature physically and mentally quicker.
"I have two academies in Korea and two in China and those places are full with youngsters hitting golf balls. They work maybe eight to ten hours a day. In that sense golf has become like tennis has been for years. Parents invest everything into these kids and in return the kids try to give everything back. The downside to this is that most will fail and that there will also be burn-out. It does concern me.
"So there are problems, yes, but it is a different culture. Look, go to California right now and look at any junior tournament and I promise you that you will find that three-quarters of the players in these events are Asians. Not long ago these families believed that becoming a classical pianist was the route to success, but now it's golf. There are more than 3,000 scratch girl golfers in Korea at this time. Can you believe that?"
Well, can you? What I can, sadly, believe is that many of these girls have reached this high plateau of achievement rather joylessly. I see this, or suspect I do, in the rather weary eyes of some of the Asian female champions who strut their stuff on the American circuit. Pro golf at this level is a demanding job, of course, but the lack of any apparent happiness shining out of these girls even when they are doing well is sometimes disturbing.
Success at any sport always has demanded long, hard hours of practice and dedication, but it is becoming increasingly evident that too many Asian families are asking too much of their children. It is a different culture from ours, but this does not mean that our approach to what is right and wrong is not occasionally correct.
I look forward to continuing success by Asian golfers and Koreans in particular, but I hope that whatever the Far East equivalent to the NSPCC may be, it is keeping at least half an eye on things.
Where next?
Tour news: Ian Poulter wins Match Play Equipment: Latest equipment reviews Opinion: Golf blogs Competitions: Win golf prizes
Bill has been part of the Golf Monthly woodwork for many years. A very respected Golf Journalist he has attended over 40 Open Championships. Bill was the Observer's golf correspondent. He spent 26 years as a sports writer for Express Newspapers and is a former Magazine Sportswriter of the Year. After 40 years on 'Fleet Street' starting with the Daily Express and finishing on The Observer and Guardian in 2010. Now semi-retired but still Editor at Large of Golf Monthly Magazine and regular broadcaster for BBC and Sky. Author of several golf-related books and a former chairman of the Association of Golf Writers. Experienced after dinner speaker.