Essendon Country Club: a golf club reborn
This Hertfordshire golf club is flourishing under new ownership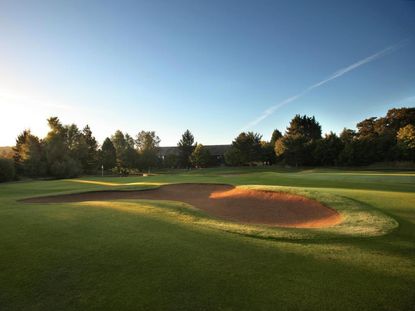 (Image credit: Picasa)
This Hertfordshire golf club is flourishing under new ownership - and a new name
Essendon is a golf club reborn. If you don't recognise the name, neither did my satnav. This club used to be called London Hatfield.
The name was changed by the current owners for, as Club Manager Jonny Harvey explains "it's neither in London nor Hatfield, but in Essendon."
Actually Essendon is not Essendon Golf Club but Essendon Country Club. But it is a golf club pure and simple. This fishing that was once on offer at this site is no more. But "brides will get married at a country club, but not at a golf club."
When it was announced that London Hatfield Golf Club was to be sold, one of the proposals was to turn it into a housing estate. So local residents Griffin brothers Kieran and Liam and their wives stepped in and bought it to preserve the 400-acre estate which was once owned by London brewer, Samuel Whitbread, as a golf club.
They could afford to as their father, John, had set up and sold for a colossal amount Addison Lee, London's largest minicab company and the Griffin family business. Liam is still the CEO of Addison Lee.
By 'local' read 'had houses actually backing onto the courses'. They were both golfers – and Kieran's wife, Elaine Ratcliffe, is a former Curtis Cup and Ladies Tour player – but there was a degree of nimbyism in their decision, too.
There are two 18-hole courses at Essendon, the Old and the New. The New course used to members only, but now is open to all.
Being open to all is at the heart of the Griffins' philosophy. "One of the first things you see when you arrive at Essendon is a sign which says 'All Welcome'," explains Kieran. "This is no coincidence."
"Some golf clubs can be a bit stuffy (opens in new tab) but we want to provide a relaxed environment in which golfers of all ages and abilities can enjoy the game. Judging by the rate at which our membership is growing that ethos has struck a chord".
Membership levels have rocketed since the Griffin family took over in December 2011 - up from under 250 to around 850. Junior membership, which stood at four when they took over, is now above the 100 mark; similarly ladies membership has grown from three to 110.
The success the new owners are making of Essendon is an encouragement to the golf industry as a whole, which has been struggling to sign up new golf club members.
(Another glint of light is the recent Golf Care survey (opens in new tab), which discovered that 79% of golfers are now members of a golf club, an increase of 2.5% on the figure for 2013.)
The New Course was constructed with two greens on 16 of the holes. This was an idea imported from Japan, the attraction being that the greens can be seeded differently, one for summer play, one for winter to ensure optimal playing conditions all year round.
Another pleasing design feature put in an the outset, well more a planting one, is that on this course different trees and shrubs were chosen to frame and adorn each of the holes. This makes for a varied and attractive backdrop on what is a scenic golf course.
The new owners are restoring and upgrading the courses in a gradual programme which is planned to be carried out over several years.
A key aspect of this is bunker renovations and repositioning. The opening hole on the New, for example, has been transformed in look and enjoyment by the addition of three bunkers.
The bunkers are being rebuilt with a specialist rubber crumb lining designed to allow for the drainage of water and an improved and consistent playing surface.
The clubhouse was expanded in 2014 with a light, airy extension. This was needed to cope with increased demand.
Essendon Country Club (opens in new tab) is being run at a profit, I was told, with all the profits currently being reinvested into improving facilities.
As well as the clubhouse and two 18-hole courses, these facilities include a golf academy which opened in autumn 2013 and the nine-hole Muntjac pitch-and-putt course.
Contributing Writer Golf courses and travel are Roderick's particular interests and he was contributing editor for the first few years of the Golf Monthly Travel Supplement. He writes travel articles and general features for the magazine, travel supplement and website. He also compiles the magazine's crossword. He is a member of Trevose Golf & Country Club and has played golf in around two dozen countries. Cricket is his other main sporting love. He is the author of five books, four of which are still in print: The Novel Life of PG Wodehouse; The Don: Beyond Boundaries; Wally Hammond: Gentleman & Player and England's Greatest Post-War All Rounder.