Five courses create Southern Counties Heathland Golf Tour
Five heathland courses in Sussex, Hampshire and Surrey have banded together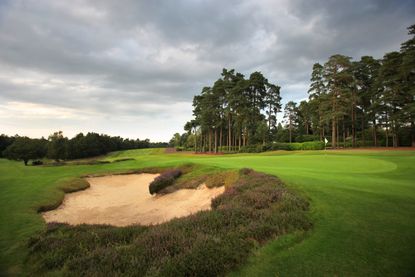 Get the Golf Monthly Newsletter
Thank you for signing up to Golf Monthly. You will receive a verification email shortly.
There was a problem. Please refresh the page and try again.
Five heathland courses in Sussex, Hampshire and Surrey have joined together to market themselves as the Southern Counties Heathland Golf Tour
Five heathland courses in southern England have joined together to market themselves as the Southern Counties Heathland Golf Tour.
The five clubs are West Sussex; the Hampshire tracks of Liphook and Blackmoor, and the Surrey pair of Hindhead and Hankley Common.
Heathland golf course are one of Britain's great golfing treasures. The best of them are hard to surpass for golfing beauty, certainly not in an inland setting.
The expanses of heather may capture and enrapture the eye, but it is their fast-draining sandy soils that make heathland landscape ideal terrain for golf.
Early golf courses were built on heathland areas for much the same reason as they were on linksland - the terrain was too sandy for crop growing.
West Sussex, which was founded in 1930, is the comparative stripling of this group.
Hankley Common is the oldest club of the five. It was founded in 1897 as a nine-holer. But the current 18-hole layout dates from 1922 when nine more holes were added.
The course and surrounding area are classified as a Site of Special Scientific Interest which includes a number of indigenous trees such as rowan, oak and silver birch, together with the Scots pine.
Hindhead was founded in 1904 by Sir Arthur Conan Doyle and a small group of fellow golfing enthusiasts.
Andrew Cooke, founder of Golf Tourism England, encouraged the clubs to link up. He explains: "As the Southern Counties Heathland Golf Tour, they form an extremely attractive cluster of high-quality courses in southern England, an area already well known for heathland masterpieces such as Sunningdale, Wentworth and Walton Heath".
"Though quieter in profile to date, these courses are all well established and highly regarded and are regularly included in the various UK golf course rankings".
The Golf Monthly Top 100 includes three of these courses - Hankley Common (44) West Sussex (54), Liphook (73). Blackmoor and Hindhead appear in the next 100.
"These five clubs are together leading the way in marketing themselves as a credible golf tourism offering to a wider audience and helping to reinforce the country as one of the foremost golfing destinations in the world," believes Mr Cooke.
Get the Golf Monthly Newsletter
Tips on how to play better, latest equipment reviews, interviews with the biggest names and more.
Contributing Writer Golf courses and travel are Roderick's particular interests and he was contributing editor for the first few years of the Golf Monthly Travel Supplement. He writes travel articles and general features for the magazine, travel supplement and website. He also compiles the magazine's crossword. He is a member of Trevose Golf & Country Club and has played golf in around two dozen countries. Cricket is his other main sporting love. He is the author of five books, four of which are still in print: The Novel Life of PG Wodehouse; The Don: Beyond Boundaries; Wally Hammond: Gentleman & Player and England's Greatest Post-War All Rounder.