How to practice shot shaping
Golf Monthly top 25 coach John Jacobs explains shaping shots on the range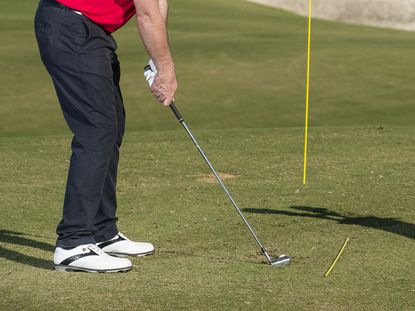 (Image credit: Tom Miles)
Golf Monthly top 25 coach John Jacobs explains how to practice shot shaping on the range before you head out to play or during the off season
How to practice shot shaping
Falts:
You have the same shot shape for every shot
Your game is too one-dimensional
Fix:
The range is obviously an important place for every golfer, but it often gets used poorly. I like my pupils to either use their practice time to build repetition in their swing, or to work on a new shot shape which they can take with them to the course. To show you how to do the latter, I've set up two work stations here. Start by creating a gate directly on your target line.
The idea is to hit straight shots through the gate. Sounds easy doesn't it? What is interesting about this is how far right of the target the gate looks as you address the ball. Understanding that this is the line to start your shots on is important, and it may well help you to stop 'coming over the top'.
Once you know that your standard shots are starting on line, place one stick directly on your target line, and hit a series of fades and draws around this stick. This forces you to commit to starting the ball on the right line. As your body and clubface aim right for a draw and left for a fade, your swing will automatically work along the line required to produce the shape you want. This very visual drill is a great way to help you shape your shots through developing your natural feel.
Lee was a freelance writer for Golf Monthly from 2013 to 2015.