TaylorMade M Woods Fitting: 19-Hcap Steve Markham
See what happened during 19-handicapper Steve Markham's TaylorMade M Metalwood fitting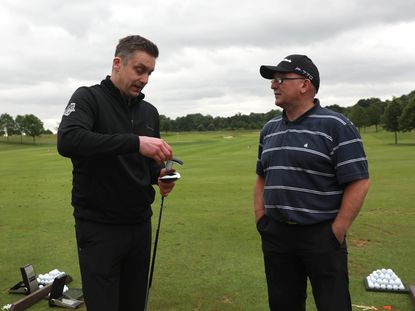 We find out what happened during the TaylorMade M Metalwood fitting of 19-handicapper Steve Markham and the M Combination he ended up with
We find out what happened during the TaylorMade M Metalwood fitting of 19-handicapper Steve Markham and the M Combination he was recommended.
Name: Steve Markham Handicap: 19 Home Club: Non-member Fault: Lack of distance Fitted by: Andrew Bostock
Driver
Andrew's Fitter Analysis "We added 40 yards with the driver for Steve, which was chiefly down to the extra forgiveness a club like the TaylorMade M2 driver can provide over old technology, in this case Steve's R11 driver, which is six years old. With the head selected it was then a case of fine-tuning the other components to give him a more penetrating flight and more distance. We settled on a lower spinning shaft and a lower loft to do this."
Steve's Driver Feedback "I have good days with my driver and bad days, with a high ball flight that is not very penetrating and with a few pulls and pushes for good measure. The main thing I noticed with the M2 was that my bad shots were much better, especially the ones that came off the bottom of the face. Me and Andrew did try the M1, but for my swing the consistency and forgiveness of the M2 was streets ahead."
Fairway wood
Andrew's Fitter Analysis "Steve was typical of many people we fit that don't realise how much technology has improved over the last decade. I wasn't surprised then to see his big gains in both distance and crucially consistency using the TaylorMade M2 3-wood.
Steve's Fairway Wood Feedback "I only really use my 3-wood off the tee because hitting it of the deck is too unpredictable but with the fitted M2 I soon saw the benefit with my launch and flight, which were both more predictable."
Hybrid
Andrew's Fitter Analysis "We settled on the M2, which offered Steve similar distance to his club but with less destructive bad shots. It also had the benefit of a shape very similar to his own hybrid, which gave him great confidence."
Steve's Hybrid Feedback "My Callaway hybrid is my go to club, but with the M2 I had a more consistent strike and noticed a better flight. I also preferred the look of the M2 with its white and black crown over the M1."
Steve's M Combination
1 M2 9° driver 2 M2 15° 3-wood 2 M2 19° hybrid
Jake O'Reilly specilaises in equipment coverage, and joined the Golf Monthly team in 2013. Before this he graduated from the University of Huddersfield with a Sports Journalism and Media degree, and worked at a number of British golf magazines. Follow Jake on Twitter
@jake0reilly