Mallorca
With the quality of the golf courses combined with the excellent infrastructure and warm welcome, this beautiful island is a wonderful golf destination.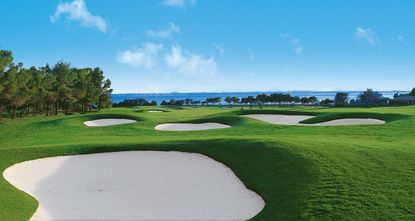 Get the Golf Monthly Newsletter
Thank you for signing up to Golf Monthly. You will receive a verification email shortly.
There was a problem. Please refresh the page and try again.
GETTING THERE
Over 20 UK airports have scheduled flights to Palma, with many operators including www.ba.com; www.xl.com and www.flymonach.com flying direct.
WHERE TO PLAY
Son Termens is a tightly packed layout, fairways snug alongside one another, only a slight slice or half hook away.
The holes at Alcanada have either the Sierra de Lavante mountains or the sea as their backdrop. It is forgiving off the tee, but the greens are notoriously tricky to read. The pick of some highly scenic holes is the par-5 13th, played from an elevated tee with a glorious view to the green set against the backdrop of the sea and the lighthouse on the island on Alcanada, 150m offshore.
Nearby, in the north of the island, is Pollensa. This nine-hole course has many fun designs, the pick of which are probably the par-3 4th across the edge of a lake and the closing par-5. This is holiday golf at its best: a beautiful, well-maintained course, challenging yet not overly intimidating. It is also an easy walking course, with plenty of shade along the attractive, deceptively difficult 2,546m course.
Seven miles west of the capital is Bendinat. It is a tight, twisting, plummeting challenge. It does not sneak up on but stare you boldly in the face. This different, spectacular and invigorating layout is a challenge worth taking on.
Also nearby is Santa Ponsa. It is mainly members only, but Santa Ponsa I is open to visitors. Flat and forgiving off the tee, it came as a welcome relief and encourages you to get out the driver, especially at the generously wide 645-yard 10th.
Son Vida, which nestles between the hills of that name and the capital is the island?s oldest surviving golf course. The first course on Mallorca was built in 1934 with the aim of encouraging tourism. Built in 1964 to a FW Hawtree design and renovated in 2001 by the German designer Kurt Rossknecht. It has an intimate almost garden-like feel in places and is hugely enjoyable.
If the bends at Bendinat have provided some stunning holes, so has the Benz at Vall D?or. This started out in 1985 as a nine-hole course, and was redesigned in 1993 by American architect Bradford Benz to bring it up to 18-holes. The course employs the terrain imaginatively with sloping fairways which also rise and fall flamboyantly along their length, often reaching a crescendo with a green perched about the fairway. The par-5 3rd played from a tee towering over a sloping, twisting, dipping fairway is magnificent.
Poniente has a delightfully rural feel, where hitting a birdie is a distinct possibility. Quite literally - chickens roam the course and the clubhouse is a converted farmhouse. The short par-4 8th, which tumbles away from the tee past a large hill to a tucked-away green set against a spectacular backdrop of countryside and mountains, is a gem.
One of most recently built courses is Puntiro, a Jack Nicklaus design. The course, which opened September 2006, is pleasantly green to the eye, with many trees. The signature hole is probably the 8th, involving a drive over water and a green perched beside water. The 7th and 8th mirror the 15th and 16th in that the first of the pair sweeps to the right around a man-made lake and the second of the pair plays over it.
OFF COURSE
The Gothic Cathedral in Palma dominates the skyline, and its stunning rose window, 12m across and studded with 1,236 pieces of stained glass, makes the small entrance fee more than worth it.
CONTACTS BOOK
Courses
Alcanada
www.golf-alcanada.com
GF: From ?95
Bendinat
www.realgolfbendinat.com
GF: ?75
Pollença
www.golfpollensa.com
GF: ?30-?40 (9) ?45-?70 (18)
Poniente
www.ponientegolf.com
GF: ?78
Puntiro
www.golfparkmallorca.com
GF: ?60-?75
Son Termens
www.golfsontermens.com
GF: ?75
Son Vida
www.sonvidagolf.com
GF: ?85
Val D?Or
www.valldorgolf.com
GF: ?79
The Foundation for the Sustainable Development of the Balearics Islands sell a Green card. It costs ?10 and lasts for 15 days after activation. It offers discounts at more than 900 establishments throughout Mallorca including many golf courses. For more information visit www.targetaverda.com
Hotels
ArabellaSheraton Golf Hotel Son Vida
T: 00 34 971 78 71 00
www.sonvidagolf.com
Castillo Hotel Son Vida
T: 00 34 971 493 493
www.hotelsonvida.com
Port Adriano Marina Golf & Spa Hotel
T: 00 34 971 237 323
www.hotelportadriano.com
Tryp Bosque
T: 00 34 971 734445
www.solmelia.con
Get the Golf Monthly Newsletter
Tips on how to play better, latest equipment reviews, interviews with the biggest names and more.
Contributing Writer Golf courses and travel are Roderick's particular interests and he was contributing editor for the first few years of the Golf Monthly Travel Supplement. He writes travel articles and general features for the magazine, travel supplement and website. He also compiles the magazine's crossword. He is a member of Trevose Golf & Country Club and has played golf in around two dozen countries. Cricket is his other main sporting love. He is the author of five books, four of which are still in print: The Novel Life of PG Wodehouse; The Don: Beyond Boundaries; Wally Hammond: Gentleman & Player and England's Greatest Post-War All Rounder.