Is This The Best Clubhouse View In Golf?
Monty McPhee travelled to Madeira to experience what this Portuguese Island has to offer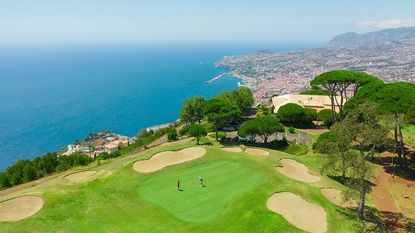 (Image credit: Azalea)
Madeira could quite possibly be the place to go for a golfing weekend away with your family or friends. Friday to Monday, it has just enough to make sure your weekend is packed full of golf, excursions, golf, food and more golf.
The Island sits southwest of Portugal and is home to two golf courses with a third an eight minute flight away on Porto Santo Island, Porto Santo Golf. Palheiro Golf and Santo da Serra Club de golf are the two courses on Madeira mainland, so I was keen to see if they compared with some of the best golf courses in Portugal.
I was fortunate enough to spend a weekend over in Madeira and play in the Palheiro Gardens Golf Classic - a great one day tournament for your everyday golfer or seasoned professional.
Palheiro Golf
Image 1 of 4
Palheiro Golf provides challenging tee shots and slippery greens so I would highly recommend a practice round before letting it fly in the competition or you're likely to do what I did and top it off the first tee!
The course sits high up on Madeira Island so not only are you exposed to the elements you are also faced with some incredible views. The design takes you across the mountain top with some 200-yard par 3 holes playing just an eight or nine iron due to the drop in elevation, so each shot definitely requires some thought, especially if it is your first time playing the course. If that is the case, be conservative off the tee.
There are some particularly tricky holes which do ask for pin-point accuracy off of the tee because if you're slightly off-line your ball could be rolling towards some trouble.
The course is quite spectacular with ocean views on every hole, I have never known anything like it. Luckily the ocean doesn't come into play but there is plenty of trouble around the course so making sure you have plenty of balls is essential.
If you haven't got enough, you can always pick some up in the pro shop just inside the clubhouse.
What a clubhouse it is, looking over the city of Funchal the views from here are absolutely breath taking, whether you're there during the day watching boats ferry in and out of the harbour or whether you're there for an evening meal watching this small city light up the darkness, it is quite special.
My first experience of the clubhouse was the Palheiro Gardens Golf Classic cocktail evening, which they have the night before the big tournament, a great way to meet the locals and calm any nerves you may have been feeling. I am sure there were a few sore heads the following day.
The golf club currently have ongoing work to upgrade their driving range to a state-of-the-art training facility that will be ocean facing. I will definitely be heading back to give that a whirl and the occasional club twirl.
There is more to do than just golf on this island…
Whether you go to Madeira to play golf and relax for the weekend or to have a fun filled few days the island has you covered. At Palheiro Gardens Estate they have an onsite hotel for you to stay at which is a minute's drive from the golf course.
They also house an excellent restaurant which overlooks the city of Funchal. Located fifteen seconds from your bedroom door is an outdoor swimming pool, indoor heated pool, spa, sauna and a couple of tennis courts. If your plan is to go and relax, then you are sorted.
However, there is more on the island to do than simply relax. We spent a morning out on the open water whale and dolphin watching where we caught a glimpse of a pod of dolphins. I have never done anything like that before, but I will definitely be doing it again.
Depending on the situation of the dolphins, you can even get in and have a swim with them but as our pod had a baby this was a no go. If sea legs are not for you, not to worry, Madeira has plenty of Levada walks, which are specific to the Portuguese island itself. On my last day I was able to squeeze in a little walk and the views from the final destination were breathtaking.
Of course, everyone gets hungry on holiday whether you are just relaxing or are out and about. Palheiro Nature Estate is in a great spot as it sits overlooking the city of Funchal and it's just a short drive away, definitely worth visiting the city where you can experience some great local food.
The seafood here is incredible, locally sourced and super fresh.
I was fortunate enough to be in Madeira the weekend of the flower festival. For someone with hay fever, like myself, you might think that's not the place to be however, it was an incredible display of music and dance as hundreds of well-trained performers, of all ages, paraded through the streets of Funchal.
The costumes were brightly coloured and people lined the streets, some even climbing up lampposts, to get a glimpse of the parade. A beautiful bit of culture to experience.
Madeira is a gorgeous island and with golf courses to match it is the ideal weekend getaway if you fancy golfing in the sun.
Monty is an upcoming golf journalist having completed his Multimedia Journalism degree at Bournemouth University; where he was also apart of the University's well renowned golf team. He has had a passion for golf ever since he picked up a club at 12 years old and this love for the sport only grew stronger over time as his game developed and he pursued golf through different avenues. His game took him over to the United States on a golf scholarship and has had him travelling the UK to take part in competitions like the Nick Faldo series and general club scratch matches. Monty worked on 'The Open' radio team when it was hosted at Royal St George's getting to walk inside the ropes with some of the top players like Justin Thomas, Rory McIlroy and of course that year's winner - Collin Morikawa. Monty has been lucky enough to have three holes-in-one in his short golfing career and he looks to continue growing that number. Monty believes the ability to continue playing golf well lies in his dedication to keeping fit through his other passion, which is CrossFit.
What's in the bag:
Driver: Srixon Z 765
3 wood: Taylormade AreoBurner
2 iron: Srixon Z U65
Irons: Srixon Z765
Wedges: Titleist Vokey SM6 (50°,54°,58°)
Putter: Odyssey White Hot Nano 7