Review: Castiglion del Bosco Golf Club
When your "SatNav" asks if you are happy to use unpaved roads to reach your destination and you have to ring a bell on a tightly controlled security gate, you get the feeling that you have arrived somewhere special. Very special in fact, you have arrived at Castiglion del Bosco Golf Club.
Castiglion del Bosco (affectionately known as CdB) is a medieval Tuscan estate set high up in the Val d'Orcia – a UNESCO World Heritage Site that has been beautifully restored under the stylish guidance of estate owner Massimo Ferragamo. Castiglion del Bosco is a founder member of the Consorzio del Vino Brunello di Montalcino and produces many of the regions finest wines. The tiny village or 'II Borgo' is breathtaking and includes 23 elegantly appointed guest Suites (there are also 9 tastefully lavish Villa's dotted around the estate) as well as a cookery school, a casual restaurant, a fine dining restaurant, a fitness centre, infinity pool not to mention the luxurious CdB Spa and an 11th century castle! Simply stunning but what of the golf course?
Having made our way through the gate and before we could get out of my car, my wife and I were greeted by two charming members of staff who guided us to the "temporary" clubhouse (it's all but temporary but a new clubhouse is scheduled in the very near future). A freshly baked croissant and an espresso set us on our way to the driving range where pyramids of Titleist balls await the fortunate few who grace these hills.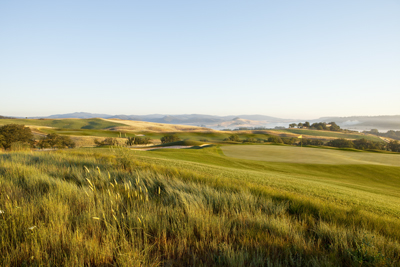 The beautiful 18th hole
I've never been a great pounder of balls so after blasting a few drivers toward the distant hills, it was time to head to the first tee. I played the opening hole pretty badly. I think I was distracted by the sheer beauty and tranquility of Castiglion del Bosco. The par-5 second sweeps downhill to a well guarded green and was a delight to play. The golf course is so pristine that you almost feel like you should take your shoes off before you tread on the perfect putting surfaces. Following the long par-4 third, flanked by Vineyards the par-3 fourth will get your attention, a long hole with an undulating green and only a well struck iron or hybrid will find the target. At the back of the par-4 fifth you are treated to a magnificent view of the estate and Il Borgo in the distance. You can hear a pin drop. Then out of the bright blue sky, four Italian fighter jets appear from nowhere! The contrast from the eerie silence to the deafening din of the Eurofighters was quite something. I had an immediate flashback of playing as a young man in the Scottish Highlands where a Tornado would appear out of nowhere from a distant Glen. Back to the golf course where the par-5 sixth offers a good birdie chance, in contrast you would take a par four on the long 7th every day and run to the next tee. My favourite hole on the front nine was the par three 8th – a beautiful par three played from an elevated tee with outstanding views of the flourishing Sangiovese grapes one side and the iconic Tuscan Cypress trees on the other. The 9th offered a similar backdrop and presented a risk-reward par four with good chance for birdie.
So to the back nine via the clubhouse of course, where a fine spread of freshly baked baguettes filled with delicious local produce, CdB wines available in plentiful supply, home made cakes, fruit, in fact pretty much everything you could possibly desire! Having played poorly on the front nine, I could've quite easily called it a day after nine and sat idly on the sun baked terrace making my way through CdB's cellar of fine wine. Thankfully I was persuaded to tackle the back nine and so we made our way to the 10th tee. A good decision. The 10th hole starts from one of the highest points on the course with a generous fairway plummeting downhill to an inviting green. 11 is a good par four, 12 runs in the opposite direction uphill to the 13th. No reviews of CdB would be complete with a mention for the 685 yard par-5. That's right, the hole measures 685 yards from the back tee – the longest hole in Europe. Normally when I hear a stat like this I wonder if it has been created purely as a talking point but number 13 is actually a delightful hole rather than a gimmicky slog. Played down hill all the way, the design makes you think on every shot. We were even greeted on the tee by a doe and her three young fawn. Quite lovely.
CdB was designed by Tom Weiskopf who was responsible for the masterpiece on the shores of Loch Lomond. There are no similarities in terms of topography but just like Scotland's finest he has carved out the course using the natural beauty of the land to make for a very enjoyable test of golf. The similarities in design struck me through holes 13 – 16 before we headed for home, up the hill to the reachable par-5 17th. The final hole is a fader's delight and offers great views across the back nine below. All done. Well not quite – if you fancy one more hole, CdB added one final chance to breathe in the view and perhaps win your money back from your playing partners. The only choice you will have to make is do you play the aptly named "Brunello Hole" or head to the bar and enjoy a glass or two of CdB's finest Vino Rosso.
A busy day may see 40 golfers tread the carpet like fairways. There are no tee times. Castiglion del Bosco Golf Club is only open to members, their invited guests and guests staying in estate. When you arrive in this beautiful part of the world, you immediately switch off and blend into the relaxed way of life here. Words and photography simply don't do this place justice. CdB epitomizes everything you can imagine as an idyllic Tuscany. Please don't take my word for it. Treat yourself and go there – you won't be disappointed.