A famous win for Jack Nicklaus
Golf Monthly's Alex Narey looks back at one of the greatest ever Masters, Jack Nicklaus' 1986 triumph, the last of his magnificent 18 Major titles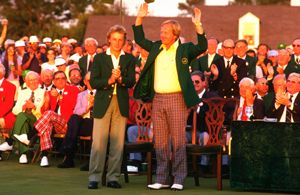 For Nicklaus, this victory, his sixth Masters and 18th Major Championship, was the defining moment in a career that had spanned over three decades. It came 23 years after his first Masters win and would close the book on the passage of the planet's most revered golfer. But it was also the crowning glory for a player whose best days were deemed to be well behind him. In competitive terms, Nicklaus was too old, and in his last seven tournaments a best return had been for 39th place, with three missed cuts.
Heading into the Masters, he was 160th on the US Money List. It had been almost six years since his last Major win, the 1980 USPGA Championship at Oak Hill, and he started the final round four shots off Greg Norman's 54-hole lead in a tie for ninth place. With too much traffic in front of him, the eyes of the galleries would feast elsewhere, most notably on the swashbuckling Seve Ballesteros - already a two-time winner with the artistry to make the ball talk on Augusta's mogul-like greens. Making his way to the 10th tee on three-under (he had just birdied the 9th) the Golden Bear was still acting as something of a bit part.
What followed was simply surreal. Unrelenting and with the crowd screaming his ball towards the hole, Nicklaus would turn the tables on the field. The statistics of his charge for home are staggering: a birdie at the 10th was followed by another at the 11th; bogey on the par-3 12th, but it's been a Sunday graveyard for so many; birdie at 13, five-under; par the narrow 14th - still four shots adrift; eagle the 15th; knock it stiff on 16 for an uphill six-footer; out of position from the tee on 17, find the surface but a steep downhiller awaits. Birdie - Jack's sixth single putt on the back nine. Nine-under-par. Outright lead. Two jabs from deep for par on the 18th confirms his position as the clubhouse leader.
While Jack was flexing his muscles, the strain was beginning to tell on the rest of the field. Ballesteros, who had eagled the 13th, sensed the heat from Augusta's favourite and went for the kill on 15. With 198 yards to the flag, he pulled a horrid 4-iron far left and short into the water. A bogey meant he was still in the mix, but the head was dropping and he would eventually finish two shots back on seven-under. "I played very good," said Ballesteros. "Just one bad shot, that's all."
Norman, meanwhile, had enjoyed a steady round from the front but had work to do to catch up. With Jack already tackling the media around the clubhouse, the Australian tied for the lead on the 17th, holing a 12-footer. Left with a 4-iron into the 18th - his 3-wood from the tee lacking the required distance - Norman sliced his approach six rows deep into the greenside spectators and failed to get up and down for par. No need for extra holes. In its 50th year, the Masters had its oldest winner at 46 years and 82 days. Nicklaus also became the second oldest man to win a Major behind 1968 USPGA winner Julius Boros, who was 48 years and 33 days at the time.
"This was maybe as fine a round of golf I have played," he later said... While it is natural to compare the recent exploits at Major Championships of Norman (Open Championship '08 at the age of 53) and Tom Watson (Open '09 aged 59), Nicklaus' achievement 24 years ago remains unsurpassed. The achievements are simply incomparable; Norman and Watson's challenges were a constant theme over four days of tournament golf. In the end, they were beaten as much mentally as for dropping shots on their final 18. Nicklaus' win was unlike anything before or since. It was compulsive viewing: a slugfest of golf where the old-timer cornered and toyed with his younger opponents before throwing a series of haymakers to send them to the canvas. To get Jack's achievement in context you need only look at the events of last year's Masters. When Kenny Perry had the opportunity to knock the 'Bear' from his 'Oldest Masters Winner' perch, you somehow knew - even when he chased down his tee shot on the 16th to within inches for a two-shot lead - that he would still fall short. A bogey/bogey finish and some tired play-off legs proved just that.
Many would challenge the 1986 Masters' standing with the heroics of the same tournament ten years later. They would have a case. The 1996 Masters was pulsating in every way. Again Norman played a lead role; again he was the 54-hole leader; again he was tripped up - this time by a powerhorse Nick Faldo who closed him out with a brush of brutality to turn a six-shot deficit into a five-shot winning margin. But while Faldo's come-from-behind victory stirred up some of the most epic moments in Masters history, it also marked one of the darkest final days in Major championships. Just like Jack's victory ten years before, Norman's loss was the defining moment for arguably the era's greatest golfer, rubberstamping his own failures in nearly two decades of fruitless challenges at Augusta. In hindsight, Faldo's win was for Faldo. Jack's win was for golf.
And while it didn't quite make me want to pick up a golf club, I'm sure there are others who were inspired to do just that. Golf Monthly's associate editor Jeremy Ellwood once claimed that Jack's win was where it all started for him. Enthused to take up the game, Jeremy has since trailed the fairways of no fewer than 457 golf courses worldwide (number correct at the time of GM going to press), written three books on the subject he loves and is reputed as being one of the biggest golfing anoraks in the industry. For that, I guess we all have Jack to thank...
More US Masters:
US Masters news: Latest US Masters news Augusta National: Hole-by-hole guide to Augusta Augusta gallery: Augusta pictures gallery History & Records: US Masters records Masters blog: Golf Monthly blogs from Augusta
Alex began his journalism career in regional newspapers in 2001 and moved to the Press Association four years later. He spent three years working at Dennis Publishing before first joining Golf Monthly, where he was on the staff from 2008 to 2015 as the brand's managing editor, overseeing the day-to-day running of our award-winning magazine while also contributing across various digital platforms. A specialist in news and feature content, he has interviewed many of the world's top golfers and returns to Golf Monthly after a three-year stint working on the Daily Telegraph's sports desk. His current role is diverse as he undertakes a number of duties, from managing creative solutions campaigns in both digital and print to writing long-form features for the magazine. Alex has enjoyed a life-long passion for golf and currently plays to a handicap of 13 at Tylney Park Golf Club in Hampshire.