Not your average pitch and putt
Golf Monthly's editor at large, Bill Elliot, reminisces of one of his most treasured memories - the moment he played Augusta's famous par-3 course with Sandy Lyle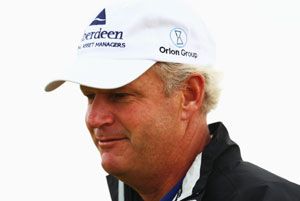 It is one of my proudest boasts that I don't like to brag - much - but, yes, I've played the Augusta par-3 course. And, yes, it is everything you would hope to find at this most famous short course.
To play this stunning nine-holer in the company of a former Masters champion, Sandy Lyle, is one of my most treasured memories. Immaculately presented and with greens as slick as its big brother, this really is a challenge.
I'd like to say I rose to this challenge, and for four holes I did just that, leading Sandy by a hole - I was on a stroke a hole, mind - until I realised where I was, dunked my ball into the water twice, four-putted twice and then happily bought what turned out to be a very long and enjoyable lunch.
The turning point in our game came when around 50 confused spectators joined us. Sandy told them I was a former amateur champion. I immediately thinned a 9-iron into the lake. I think some of the punters rumbled my friend's fib at that moment.
It's probably not the worst lie he's ever told, but it almost certainly is the most ridiculous. Bless him...
Bill has been part of the Golf Monthly woodwork for many years. A very respected Golf Journalist he has attended over 40 Open Championships. Bill was the Observer's golf correspondent. He spent 26 years as a sports writer for Express Newspapers and is a former Magazine Sportswriter of the Year. After 40 years on 'Fleet Street' starting with the Daily Express and finishing on The Observer and Guardian in 2010. Now semi-retired but still Editor at Large of Golf Monthly Magazine and regular broadcaster for BBC and Sky. Author of several golf-related books and a former chairman of the Association of Golf Writers. Experienced after dinner speaker.