Gallery: Hero Indian Open
The European Tour takes on a distinctively Indian flavour for a week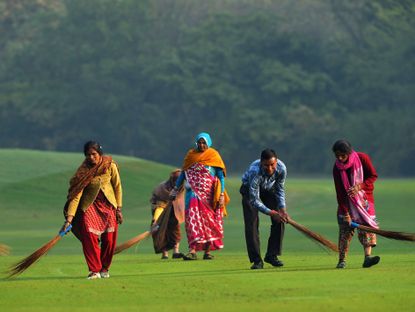 (Image credit: Stuart Franklin)
Anirban Lahiri comes back from a first round 80 to win the Hero Indian Open, watched on by chipmunks, peacocks and dogs
Some of the greenkeeping staff sweeping the fairways prior to a day's play in the Hero Indian Open at Delhi Golf Club.
Sieving sand for the bunkers
One of the tee markers. The Indian Open was played in New Delhi and was sponsored by Hero Motocorp (formerly Hero Honda), a motorcycle manufacturer based in that city.
The Delhi Golf Club has two golf courses, the championship 18-hole Lodhi Course and nine-hole Peacock Course. The Peacock course was designed by Peter Thomson in the mid 1970s as part of an overall redesign at the club.
A chipmunk takes some time out on the second day of the tournament for a spot of lunch.
I am not sure it was sheer driving pleasure for Damien McGrane this time judging from where he has ended up playing from.
The 13th green during the third round of the Hero India Open at Delhi Golf Club.
Anirban Lahiri was one of the pre-tournament favourites, but carded an 80 on the first day which had included a 8 on the 10th ,which left him in 80th position. This picture however is from his round on the second day, when he shot 65, the joint lowest round of the tournament. Lahiri's second round contained three bogeys, six pars and nine birdies and moved him up 73 places on the leaderboard, to 7th.
Thanyakon Khrongpha of Thailand wearing a surgical mask as protection against pollution in New Delhi.
"There are now four doglegs on this hole."
"That is an unusual design. I can't see them." Jorge Campillo and his caddy are joined by a dog during the third round of the Hero India Open.
Lahiri began the final round seven shots off the lead but a closing 69 was enough to take him into a playoff with overnight leader Chawrasia, who had stumbled to a 76. When Chawrasia drove into undergrowth on the first extra hole, and had to chip out, it was advantage Lahiri. This advantage he was not to surrender.
Contributing Writer Golf courses and travel are Roderick's particular interests and he was contributing editor for the first few years of the Golf Monthly Travel Supplement. He writes travel articles and general features for the magazine, travel supplement and website. He also compiles the magazine's crossword. He is a member of Trevose Golf & Country Club and has played golf in around two dozen countries. Cricket is his other main sporting love. He is the author of five books, four of which are still in print: The Novel Life of PG Wodehouse; The Don: Beyond Boundaries; Wally Hammond: Gentleman & Player and England's Greatest Post-War All Rounder.