Early Open exit for troubled Tiger Woods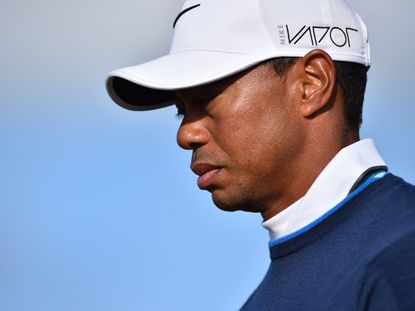 (Image credit: AFP/Getty Images)
Tiger Woods has missed the cut in both the U.S. Open and The Open in the same season for the first time in his career
Tiger Woods, once indomitable on the ancient Old Course at St Andrews, missed the cut here in the 2015 Open by seven shots.
Only seven golfers in the 156-man field sat beneath for the former world No. 1 on the Open leaderboard, and for the first time in his career, Woods has missed the cut in the U.S. Open and The Open in the same season. It would have been a solemn trip back to the United States for Woods, a 14-time major winner and twice the Open champion at St Andrews, in 2000 and 2005.
"I only made three birdies in two days. That's not very good," said Woods, with scores of 76 and 75 putting him seven over par for 36 holes. "The golf course wasn't playing that hard. I just didn't get much out of any of the two rounds."
When Woods returned to the golf course on Saturday evening to complete his delayed second round, he required five birdies in six holes to make the cut. He needed his putter to heat up in a hurry but instead it turned stone cold. Dropped shots on holes 14 and 15 were the consequence of missed short putts, and another short one went begging when the grandstand crowd around the 18th green was desperate for Woods to give them the slightest reason to cheer him off the Old Course.
Different parts of Woods' game have let him down at varying times this week, but on Saturday on the greens, a sullen Woods was a shadow of the player who used to putt with such will and certainty.
"I'm just not scoring," said Woods. "Every time I had an opportunity to make a key putt or hit an iron shot in there stiff and get some momentum going, I haven't done that… It's frustrating, there's no doubt."
Despite his lack of form, Woods insists he will continue working in the same direction with coach Chris Como.
"I'm going to keep going," he said. "Keep going forward. I play in a couple weeks in [Washington] D.C., so I am looking forward to playing in the Quicken Loans [National] and hopefully I can win that event and get into a place that I know very well."
Robin Barwick travelled to The Open with Mercedes-Benz. Mercedes-Benz is Proud Patron and Official Car of The Open.
Robin has worked for Golf Monthly for over a decade.