7 Scoring Shots You Must Have
Lower your scores by playing these 7 crucial golf shots...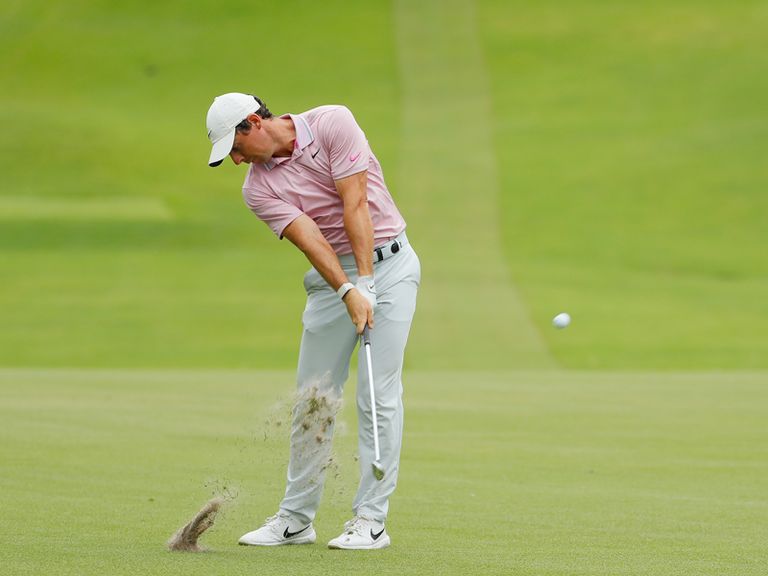 (Image credit: Getty Images)
Golf Monthly Newsletter
Golf tips and expert instruction, golf club reviews and the latest golf equipment.
Thank you for signing up to Golf Monthly. You will receive a verification email shortly.
There was a problem. Please refresh the page and try again.
Lower your scores by playing these 7 crucial golf shots...
7 Scoring Shots You Must Have
Below we list out 7 essential golf shots you need to shoot lower scores.
From the quick-stopping approach and the punch into the wind to the bunker save and lag putt, master these and your scores will tumble...
1 Quick-stop approach
To make birdies and save your pars, you need to have the quick-stop approach shot in your locker, especially for those tricky, tucked-away pins.
A common misconception to get height and distance is to lean back on your shots but that creates inconsistent strikes.
Instead, stay balanced and focus on a clean strike, which will produce the requisite spin.
To strike your irons and wedges correctly you need to hit them with a slightly descending blow.
A good drill to improve your striking is to use some spray (dry shampoo works) to draw a line and place your ball on top of it.
Your divots should start after the line, not before. If you don't catch the ground at all, that's an indicator that you're not hitting down on the ball enough or your weight is still staying back.
This will help you train yourself to use a descending blow with your irons, which will get the ball up in the air and create added spin to keep it in the air and stop quickly on landing.
2 Punch
We don't always play in perfect, benign conditions so the low, punch shot is a necessary shot to have in the armoury when it gets breezy.
A punch shot also works well on fast and firm courses and can be used effectively both off the tee and from the fairway hitting into greens.
So, how do you play it?
Remember that the faster you swing, the more spin you create.
For a punch shot, you want as little spin as possible so a simple way to play the shot is to take one or even two more clubs than normal, grip down and swing it easy.
You want to get your weight slightly ahead of the ball so have it just back in your stance, aim a little left to counter this and finish with a sawn-off follow-through.
3 100 Yard Shot
Whether you need to get it close to save par or are hoping to make a birdie, the 100 yard shot is a must-have for any golfer. You'll be amazed how often you're left with this distance or one close to it for your second shot.
Whilst technique is crucial on this shot (similar to point 1), it is all about knowing your distances.
Go to the driving range, your practice ground or on the course (if it is quiet) and pick out a target that is 100 yards - use a laser rangefinder for clarification.
Practice and knowing your yardages is the key here so hit 10-20 shots and work out which wedge is the right one.
Perhaps a gripped-down 52 degree wedge is the perfect club or a full 56 degree.
Have three different shots with each wedge and know how far each goes - for example a full swing, a swing where the hands reach chest height and another where the hands reach shoulder height.
Either way, knowing your yardages with your scoring clubs is absolutely crucial to going as low as you can.
4 Spinning Chip
The one-hop-and-stop chip shot is created when a perfectly crisp strike has been made.
Many amateurs duff and thin their chip shots and a great way to improve your striking is to improve your rhythm.
Think '1' at the top of your backswing and then '2' at impact.
Don't use too much wrist action in the backswing as you'll then have to slow your wrists down through impact. Instead, just a small amount of wrist hinge will do.
Keep the speed up through impact and with a good rhythm, you'll begin creating plenty of spin.
5 Basic Bunker Escape
Sandy pars are what keep rounds going and a poor bunker technique often leads to swift double-bogeys in the amateur game.
Good bunker players consistently strike the sand at the same point behind the ball, so carve out a line in the sand 2-3 inches before the ball and try to strike the same impact point.
Focus on keeping the speed of the clubhead up through impact by releasing the right hand a little earlier than usual, don't decelerate as the sand will take over and the ball won't come out.
6 Lag Putt
A simple tip for distance control. If you want to score as low as possible, you need to avoid costly three-putts.
A great way to avoid three-putting is to practise your lag putting from long range.
Place a club along the ground 3ft behind a hole and then hit putts from 30-40ft away and try to stop the ball within the area between hole and the club behind it.
This will mean that you are not leaving your putts short and also not hitting them too far past. Vary the start position slightly on every putt to make it more realistic.
Great lag putters hole the odd long putts due to excellent speed control and very rarely three-putt for the same reason.
7 Holing Out
You can't shoot your lowest score possible if you can't get the ball in the hole.
These are the crucial shots that separate good rounds from great ones.
A great way to practise your holing out is to make a gate using two tees halfway between your ball and the hole and putt the ball through the gate.
Make sure the gate is only just big enough for your ball to roll through.
This has you focused less on trying to hole the putt and more on putting a good roll on it and starting the ball on the correct line.
Do this for 10 or so minutes and you won't miss a thing out on the course.
Articles created in partnership with TaylorMade.