7 Biggest Golf Strategy Mistakes
In the video and article below, we explain seven simple strategy mistakes commonly made by golfers...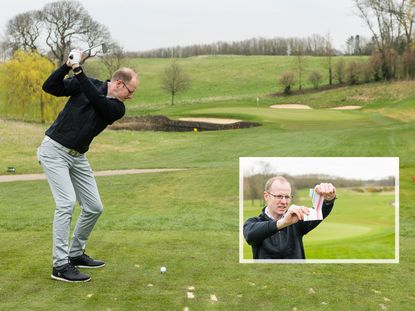 In the video and article below, we explain seven simple strategy mistakes commonly made by golfers...
7 Biggest Golf Strategy Mistakes
Courtesy of Shot Scope, we have had access to some fascinating information and statistics detailing where golfers are going wrong on the course.
WATCH: 7 Biggest Golf Strategy Mistakes -
In the video above, GM's Neil Tappin wears the Shot Scope V2 GPS Watch, paired with his smartphone app, to find out his statistics like club yardages, accuracy off the tee, GIR percentages, sand saves and more.
There are some fascinating findings from the information provided to us from Shot Scope's user database, and whether you're a low handicapper or just starting out on your golfing journey, these tips can help you.
Here are the 7 biggest golf strategy mistakes that could quite easily be rectified to help you lower your scores...
7 Biggest Golf Golf Strategy Mistakes
7 - Stop coming up short
Incredibly, 80% of missed greens are missed short.
If you fall into this trap, the first thing to check is your ball striking - there are a whole host of free online tutorials that will help you strike the ball better and help you reach the pin more often from the fairway.
Another point relates to your equipment, are your clubs forgiving enough? If they're not, perhaps a more forgiving and modern set of irons will help you get away with those slight off-centre contacts.
Finally, how well do you know your yardages. In our experience, golfers often over-estimate how far they hit the ball and regardless of your handicap, it makes sense to pay close attention to your distances. Ideally, this would also involve discovering your carry distances with each iron in the bag - this will help you avoid the majority of the trouble that is often positioned short of flag-high.
6 - Wrong club off the tee
Most of us believe that we're much more accurate with our 3-wood than with our driver, but is that really the case? Not according to the data we've had access to. According to Shot Scope, golfers are only 1% more accurate with their 3-woods than drivers.
So...next time you're not confident of finding a must-hit fairway with your driver, perhaps skip your 3-wood and go down to your hybrid or use a long iron instead.
Another way of looking at it is to make sure that you find a 3-wood that suits your game and that you can confidently find fairways with. A full and thorough custom fitting will help with that!
5 - Avoid big numbers
The Shot Scope graphics below show the average number of birdies and the average number of double-bogeys made by handicap categories.
Want to lower your scores? More birdies will help, but it's not crucial. Instead the fastest way to improve is to make fewer double-bogeys. Higher handicappers in particular might well score better by simply aiming for the middle of the green instead of taking on the hero shot in the hope of a birdie.
For one round of golf, disregard the pin on every approach shot (no matter whether you have 100 or 200 yards to go) and try to hit the middle of the green. Then take a look at the effect on your scores - you might be surprised!
4 - Stop leaving putts short
82% off putts hit from outside of 5ft are left short!
This is something well worth thinking about in your own game.
Dave Pelz did some research a few years ago saying that the ideal pace for a putt hit would be 18 inches past the hole.
That is enough pace to get over any bumps on the green and not too much pace to leave you struggling for three-putts.
Speed control is a crucial factor when it comes to your success on the greens, so a good drill would be to place a tee peg 18 inches beyond the cup and ensure your ball finishes around that (if it doesn't go in!)
Another good drill is to create a box around the hole and get your ball finishing in the back half. If you can do that, chances are you might just hole a few more putts.
3 - Pitching lay up
It's often said that when it comes to pitching, it's better to leave yourself further back to make a full swing. However, the Shot Scope data doesn't actually back this theory up. What the data shows is that players are hitting the ball closer to the hole from closer to the green.
It's well worth thinking about in your own game, perhaps keep some stats to see if you are hitting it closer with full shots over half shots. If not, then from now on your magic lay up number could be something like 65 yards instead of 90 or 100.
2 - Hybrids or long irons?
The Shot Scope data is fairly inconclusive for lower handicappers, but for higher handicappers it is clear that hybrids tend to be far more successful.
The cut-off point seems to be around the 13 handicap mark. For a 20 handicapper a 180-200 yard shot, they're almost twice as likely to hit the green with a hybrid over a long iron.
If you are a high handicapper carrying long irons, keep some stats of your own and if you're missing a lot of greens and coming up short with the longer irons, perhaps it's time to invest in some hybrids.
1- Right or left?
Are you more likely to miss right or left off the tee?
Editor's Choice 2019: Why the Shot Scope V2 made our list of hottest products
Knowing this information will help you build a better strategy based on your misses and where the trouble is positioned. If there is out of bounds on the left and you often miss left, you know this is a dangerous situation for your game and you can work out a gameplan to avoid a big number. Alternatively, if you usually miss right, you can take a more aggressive approach knowing you should be able to keep the ball in play.
Whichever of these 7 Biggest Golf Strategy Mistakes you most commonly make, a smarter approach should certainly help you shoot lower scores.
Articles created in partnership with Shot Scope.