PGA Centenary Course at Gleneagles
Images of the PGA Centenary Course at Gleneagles, which will host the 2014 Ryder Cup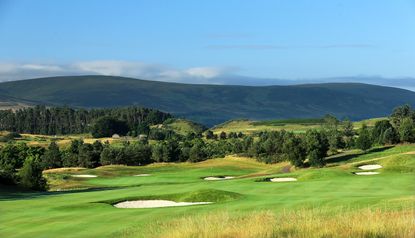 (Image credit: Getty Images)
Images of the PGA Centenary Course at Gleneagles, which will host the 2014 Ryder Cup
A view from behind the elevated green on the 426 yard par-4 opening hole.
Players will face water left and a bunker to the right on their approaches to the 516 yard par-5 2nd hole.
A view from over the back of the green on the 431 yard par-4 3rd hole
The short, picturesque par-3 4th hole can play up to around 240 yards.
A narrow fairway awaits the players on the long par-4 5th hole which measures 461 yards.
The 6th is the 2nd of the par-3's, and plays downhill to one of the narrowest greens on the course.
A view of the scenic approach that will face the players on the 468 yard dogleg right par-4 7th.
The downhill risk-reward par-4 8th could prove to be a pivotal hole in the matches.
The reachable par-5 9th involves players having to negotiate water and bunkers to set up a birdie, or perhaps even an eagle opportunity.
A well bunkered, pear-shaped green awaits the players on the 208 yard par-3 10th.
The short par-4 11th will require an accurate wedge shot to a shallow target to avoid the stream and several bunkers protecting this green.
"Carn Mairg" is another strong par-4, with a green guarded by several deep bunkers and swales.
At 481 yards the 13th is the longest par-4 on the course, with a fairway protected by several deep bunkers.
If players want to drive the short par-4 14th hole, they will have to negotiate several bunkers waiting to catch errant tee shots.
The 15th is a tough driving hole, with deep rough to the left and a large bunker to the right.
The well bunkered 16th is the start of an exciting finishing stretch to the PGA Centenary Course.
Sandwiched by two par-5's, the short 17th plays slightly downhill to a fairly generous green.
The spectacular par-5 18th features an undulating putting surface which will require an accurate approach to hold the green.